"What are the additional charges when buying a house?", asked one of our readers. So, we thought of writing a detailed post on the topic and clearing the doubt once and for all.
All of us want to buy a house or invest in property at some point in our lives. Isn't it? Once you start your property search, you will be amazed by the kind of opportunities you will find. As a wise person you will fix your budget and start searching property as per that budget. While searching your house, you should be aware that other than the basic cost, there are a whole lot of additional charges, which can increase the cost of property by 20-40% over the basic cost. And if the project gets delayed, the additional costs can actually double your cost of acquisition of property. Don't believe us? Well then read on. In this article, we have covered all major additional charges when buying a house and provided a real example of one of our readers who made a property investment in Gurgaon.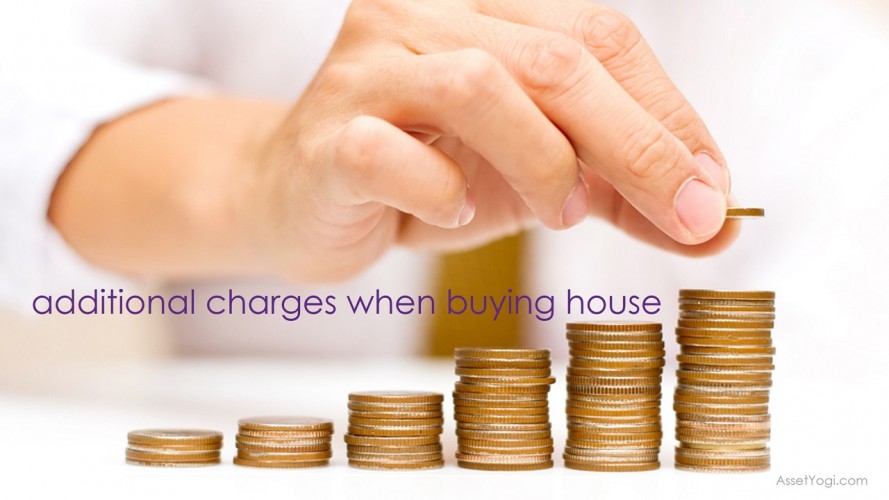 Additional charges when buying a house
During Construction
1. Car Parking
Generally when you book an under construction apartment, you will have to take one compulsory car parking either in an open parking area or covered area. Covered car parking charges are higher than open area charges. On an average, one covered car parking can cost you 5-10% of the basic property cost, depending on the type and locality of property. If you need extra car parking, you will have to pay additional parking charges.
2. Preferential Location Charges (PLC)
Builders charge Preferential Location Charges (PLC) for specifically located properties such as "park facing", "sea facing", "lower floors", "higher floors", "corner units" etc. For instance, in Delhi-NCR for multistoried building, PLC is charged for lower floors upto 4 floors while in Mumbai, PLC is charged on higher floors and the charges increase as you go up.
3. EDC & IDC – Infrastructure Charges
External Development Charges (EDC) and Infrastructure Development Charges (IDC) are levied by state government on the developer in order to provide various infrastructure services such as water & electricity supply, sewerage, roads, street lighting etc. Builders in turn pass on these charges to buyers on per sqft basis.
4. Power Back-Up
Power Back-Up charges are levied on the amount of power back up provided to each flat on per kVA basis.
5. Club Membership
If the residential complex has a club and swimming pool, most builders charge one time club membership fee separately.
6. Utility Connection Charges
Utility connection charges are levied by builder for water, electricity, gas and sewerage connections.
7. Sewage Treatment and Water Treatment Plants (if any)
In many upcoming locations, it may not possible to supply municipal water because of lack of infrastructure. So, builders generally use ground water for supply. Water treatment plant is provided to treat saline ground water and make it suitable for household purposes while sewage treatment plant is used to treat sewage so that treated water can be used for flushing and gardening purposes. Builders will charge for these facilities separately.
8. Maintenance Deposit
Before handing over the flat, builders collect interest free maintenance deposit, which is used to provide for maintenance of common facilities for initial period immediately after possession and until the maintenance is handed over to RWA (Residents' Welfare Association). Maintenance includes water & electrical services maintenance, cleaning & maintenance of common areas, salaries of maintenance and security staff etc.
9. Service Tax, VAT & other government levies
Service Tax and VAT are levied on under construction properties. While service tax is 14% of 25 percent value of the under construction property, VAT is charged on the construction value of the project. Together, these two taxes may cost you 8-10 percent of the property value.
Upon Completion
10. Stamp Duty & Registration Charges
Stamp Duty & Registration Charges are levied by state government to register the sale/ conveyance deed. Stamp Duty charges vary between 4% and 10% of the assessable value of property.
11. Legal and Documentation Charges
Many developers charge separately for all legal and documentation services.
12. Interior Costs
After taking possession of your house, you will have to spend a decent amount on interior works – wardrobes, modular kitchen, electrical & sanitary fittings, grilled gates etc. Interior costs can be 5-20% of total property cost.
Other Costs (as applicable)
13. Interest, Rental and Tax Rebate Loss
While booking an under construction property, many of us do not realize that there can be high indirect costs. If the project gets delayed, you will have to bear extra interest cost on your home loan and rental costs till the time you do not get possession. Moreover, during construction you cannot claim any tax deduction on your home loan. You can claim tax deduction on interest paid during construction only after taking possession of property. These indirect costs can add up to a huge value and you must take them into account while booking an under construction property.
14. Nomination Transfer Charges
Under-construction property can be bought in two ways – one by way of original booking with the builder and second by way of buying property of an investor in resale. If you buy property in resale, the investor or broker may not tell you upfront that you need to pay transfer charges to the builder to get the booking transferred to your name. If you knew it earlier, you could negotiate with the seller to split transfer charges 50:50 or could ask him to bear the transfer charges completely. You should discuss about the transfer charges upfront, while booking.
15. Loan Processing Fee
When you apply for a home loan, you will be required to pay processing fee of upto 0.5% of the loan amount. You should factor this amount also in your property cost.
16. Home Loan Insurance
Many banks or financial institutions insist that you buy home loan insurance along with your home loan. The insurance premium will be added in your EMI. If you already have other life insurance policies, you can avoid such loan insurance schemes and save some amount there.
17. Broker's Fee
Most transactions for resale property or ready to move in property happen through a real estate agent and once the transaction is complete, you will be required to pay 1-2 % of the property value as the agent's fee. You should negotiate the broker's fee before you start your home search and factor this amount in your budget.
Let us now see a real example of additional charges when buying a house.
An Example
Namrata, a finance consultant, booked a 3BHK flat of 1500 sqft. in Gurgaon in June 2009. While she was supposed to receive possession by June 2012, she received it in Jan 2015.
The cost structure of her apartment was as follows:
Particular
Rate (Rs. per sqft.)
Cost (Rs.)
Basic Cost
2500
           3,750,000
Additional Charges
PLC (First Floor)
100
               150,000
Covered Car Parking
lumpsum
               250,000
Club Membership
lumpsum
                 65,000
EDC/ IDC
375
               562,500
Power Back-Up (3KVA)
lumpsum
                 45,000
Maintenance Deposit
 lumpsum
                 50,000
Electrical Connection Charges
 lumpsum
                 50,000
Service Tax
 total
               172,288
Stamp Duty & Registration
5% (for females)
               246,125
Legal & Documentation Charges
 lumpsum
                 25,000
Total Additional Charges
 
           1,615,913
Total Cost of Flat on Possession
 
           5,365,913
Other Costs
Interior Costs
               500,000
Loan Processing Fee
                 15,000
Extra Rent burden due to delay
20000 p.m.
for 31 months
               620,000
Extra Interest Cost due to delay
               875,000
Total Other Costs
 
           2,010,000
As you can see from above table, the basic cost of the flat was just Rs. 37,50,000 but the total cost of flat at possession summed up to Rs. 53,65,913 i.e. about 43% higher than basic cost. Now, this was just the cost of raw flat without factoring other costs such as interior costs, loan processing fee, loss due to interest and rent etc. If you add these other costs of Rs. 20,10,000, the Total Cost of Property for Namrata became Rs. 73,75,913, almost double of basic cost, which she would have never imagined at the time of booking.
Now that you are aware of various costs involved, we hope that you would consider all additional charges when buying a house.
Over to You
We need your love! Like and Share this article on "17 Additional Charges When Buying a House", if you found it useful.
Have something to say or ask? Please comment below.
Become a Smart Real Estate Investor!
Get latest Real Estate insights, tips & tricks straight to your inbox.