While buying a house in India, you have two choices. You can either buy an under construction house or a ready-to-move-in house. The process for both types of properties is slightly different. In this guide, we will tell you about how to buy a house in India separately for both types of properties.
The home buying process typically consists of estimating your budget, searching a property, applying for home loan, registration of property and possession. But as the popular saying goes, "The devil is in the details", you must understand the complete process so that you are not cheated at any point. Also, when you know the process, you send a signal in the market that you are an informed buyer. Now, let us look at the home buying process.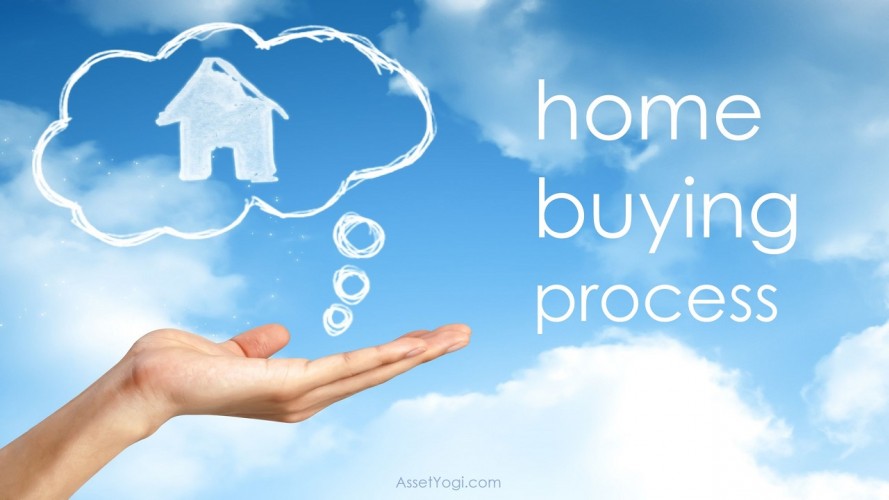 Buying a House in India
Under-Construction Home Buying Process
1. Estimate your Budget
Buying a house in India is a dream of every Indian. The very first step in the home buying process is to estimate and plan your budget. You must understand total costs involved while purchasing an under-construction property. Other than the basic cost, you will have to pay for parking charges, club membership, EDC, IDC, PLC (if any), VAT & Service Tax etc. At the time of handover you will have to bear stamp duty, registration charges and you will have to spend on the interior works as well. You can use our home affordability calculator to calculate the maximum value of house you can afford.
2. Check your Credit Score
In case you are planning to finance your home purchase with a home loan, you must check your CIBIL score (Credit Score). The CIBIL score is a score that ranges from 300 to 900 points and it gives an indication to the lender about your likelihood of paying back the loan. You can easily get a home loan if your CIBIL score is above 750. However, if your score is below 700 then you must try to improve your CIBIL score before you apply for a home loan. Else, you may get disappointed if your loan application gets rejected at the last moment.
3. Search Property
Next step is to identify the location where you would like to buy your house. Factors that you should keep in mind while narrowing the location include – the distance from your workplace & your kid's school, connectivity, hospitals, shopping centers & parks in the vicinity.
Once you narrow down on the location, next step is to identify the exact property that fits your requirement. You should evaluate the property on layout, number and size of bedrooms, balconies & bathrooms, size of kitchen etc.
You can also take the help of a professional real estate advisor who knows all about the properties and builders on his fingertips. The services of these advisors are free for you as they will get their fees from the developer. In fact, many advisors offer cash back from their fees. So, you can save your time and money by engaging a professional advisor. But check the authenticity of the consultant as you will come across many unprofessional & uneducated real estate agents.
4. Conduct Due Diligence
Once you select a couple of properties that fit your requirement, you must check the following:
whether the developer has clear title of the property,
developer's past record of delivered projects,
whether the builder has received all approvals for the project,
copy of allotment letter,
copy of builder buyer agreement especially the penalty clause in case of project delay
5. Understand Payment Plan & Book Property
Once, you are satisfied about the property and builder, you should understand the payment plans that the builder is offering. Typically there are four types of payment plans:
Downpayment Plan – In this plan, you have to pay the entire property cost upfront and the builder may give you a good discount under this plan. But you should be careful as you would expose yourself to high risk against project delay.
Time Linked Plan – Under this plan, you pay according to a set timetable, whether the construction is on time or not. Again in this plan, you get exposed to the risk of project delays.
Construction Linked Plan – This is the best plan from the risk point of view. In this plan, your payments will be linked to construction stages of the project. If the project is delayed, you don't have to pay any further to the builder.
Subvention Schemes – These schemes have become popular in last few years. Under this scheme, you pay only 20-30% upfront and balance at the time of possession. Though, these schemes are attractive from the risk point of view, these are slightly more expensive as the builder loads his interest cost in the price of the property.
Once, you choose a payment plan, first you need to give the booking amount. Then, you have to pay 20-30% amount as downpayment within 3 months of booking. You can pay balance amount either through your own funds or bank financing.
At the time of booking, you can choose a unit as per your preference of location, floor etc. However, you may have to pay PLC (Preferential Location Charges) for certain units for eg. units which are park facing, corner units, club facing, lower/ higher floors etc.
6. Apply Home Loan
After you pay the booking amount, in case you are looking for bank financing, you should immediately start the home loan process. Maximum banks offer home loan upto 80% of the total property cost. Your home loan eligibility depends upon various factors such as your take home salary, any other outstanding loan, your credit score and the nature of your employment.  You can choose between fixed and floating interest rates. If the interest rates are relatively low, you can lock your interest rate by choosing fixed interest rate otherwise you can go for floating interest rate.
7. Sign Allotment Letter and Builder-Buyer Agreement
After you pay the initial booking amount, you will be given an allotment letter signed by the builder that will mention your unit no. & area of the house, payment details and other broad terms and conditions.
After that you will be required to pay the entire downpayment amount of 20-30%. Upon paying the downpayment amount, you will be signing builder-buyer agreement with the builder. This agreement is a contract that signifies that the property has been sold to you by the builder and will form the basis of all your transactions with the builder. You should cross check all details mentioned in Builder-Buyer Agreement are same as promised in the Allotment Letter.
In addition to the standard terms and conditions, the agreement will also contain the delivery date, your payment structure (and penalty in case of late payment), penalty clause (in case of project delay), the layout plan, details about amenities and specifications of the project. You should go through the agreement in detail and clear any doubts with the builder before signing it.
8. Monitor Progress
After signing the builder-buyer agreement and getting your loan sanctioned, don't relax yet. It is quite common for builders to delay projects. You should keep a track on the progress of construction. These days many buyers form online groups to follow up with builder. You can join such a group as it becomes easier to track and follow up on project with shared costs and resources. In worst case scenario, you can raise a group voice against the builder and even file a legal case together.
9. Registration & Possession
Once your property is ready, the builder will call you for registration of property. You will be required to pay stamp duty and registration charges at the registrar's office and the sale deed will be registered in your name. The builder will also make you sign a "No Dues Certificate" which will state that after possession, the builder has no liability towards you. Once, all documentation is over, the builder will hand over your house keys to you along with the possession certificate.
Ready-to-Move-In Home Buying Process
1. Estimate Budget
Just like the process of buying an under-construction property, first you need to estimate your budget if you are looking to buy a ready-to-move-in house. However, in case of ready-to-move house, the costs include property cost, agent's fees, stamp duty & registration charges, RWA membership fees and renovation costs. You should calculate your home affordability to estimate your budget.
2. Check your Credit Score
Next step is to check your CIBIL score and aim for a score of more than 750 in case you would need a home loan. The process is same as described above.
3. Search Property
Now note down your requirements – location & specifications of property (number of bedrooms, size etc.) that fit your budget.
If you have time and expertise, you can start your search on online property portals and start talking to individual owners who have advertised on these portals. However, this way you may restrict your choices and you may not get the best deal.
The other way is to hire the services of a professional real estate agent who will not only show you wider range of properties but also can help you negotiate a better deal. Please do not try to save 1% commission of the agent here. You may not realize but you can save much more than that in the deal if you get an expert agent with you. But the choice is yours.
4. Conduct Due Diligence
Once, you narrow down on a property, you must check all papers thoroughly. Ensure the following:
the property has clear title and is free from encumbrances,
the seller has selling rights,
the owner has complete chain of property papers right from the first owner,
property taxes are paid up to date,
all utility bills (electricity, water, maintenance etc.) are paid up to date,
no dues certificate is received from the cooperative society,
if the property is mortgaged, the owner pays off the loan before registration
5. Downpayment & Agreement to Sell
After satisfying yourself regarding property documentation, first you need to pay token amount to the seller to block the property. Then within a week to ten days' time, you need to pay booking amount (10-20% of property cost) to the seller and the agreement to sell is signed between the buyer and the seller. This agreement contains property details, payment schedule and other terms and conditions. Typically, you will get a time of 2-3 months for complete payment. In case the seller backs off from the deal after taking booking amount, he has to return double the booking amount to the other buyer. And in case, the buyer backs off from the deal after paying booking amount, his booking amount will be forfeited.
6. Apply Home Loan
In case you are planning to take a home loan, you should apply for it immediately after you pay the token amount for a property. All the steps of home loan are same as described above for under-construction house.
7. Registration & Possession
Once, you pay the complete amount as per the payment schedule, you will have to go to the local registrar's office for the registration of your sale deed. You will have to pay stamp duty & registration charges and legal documentation fees. Stamp duty charges vary between 4% and 10% across states.
After the registration, you can collect your house keys from previous owner and move into your new house. Some societies charge an entry fee between Rs. 50,000 to Rs. 2 lakh from new members. Make sure you clarify this with the seller at the time of negotiation.
Final Word – How to Buy a House in India
The process of buying a house in India can be a strain especially when people hear about so many frauds happening in the industry. But if you take all necessary steps described in this article, we are sure that you can easily buy a place that you can call home. Finally, please do not try to do everything on your own. Take help of a real estate professional or a legal expert whenever required.
Over to You
We need your love! Like and Share this article on "Buying a House in India – How to Buy a House in India?", if you found it useful.
Have something to say or ask? Please comment below.
Become a Smart Real Estate Investor!
Get latest Real Estate insights, tips & tricks straight to your inbox.