Looking to buy a house? You would need to take care of two major aspects – home search and arranging finances. Both of these processes require substantial time and efforts. If finances can be arranged beforehand, you can focus your time and energy on home search. A Pre-Approved Home Loan is a good option to secure financing for your future home.
Although a pre-approved home loan has its own advantages,we should be aware of certain pitfalls associated with it. Let us have a closer look at pre approved home loans from an analytical lens.
What is a Pre Approved Home Loan?
A Pre Approved Home Loan is basically an in principle sanction given by a Bank for a particular loan amount with a specific interest rate valid for a specified period of time.
Procedure – The process for a pre approved home loan is not very different from a regular home loan process. You have to submit all your documents along with processing fee. For eg. if you are a salaried individual, you will have to submit:
Duly filled Application Form along with photographs
Identity Proof, Residence Proof and Age Proof
Latest 3 months' Salary Slips.
Last 6 months' Bank Statements showing Salary Credits.
Form 16/ Income Tax Returns of last 2 years.
The factors that the bank looks at while analyzing your application include your income status, the current EMI outflow, your payback history and your net-worth.
For detailed information and tips on home loan documentation, check out Documents Required for Home Loan.
Validity – 1-3 months from the date of sanction. In some cases, the validity can be further extended upto 6 months. However, if the interest rate changes, you will be charged the rate prevailing at the time of taking the loan.
Loan Eligibility – Banks calculate eligible loan amount based on income to obligation ratio. As a thumb rule overall EMI (including all loans and credits) should not be more than 50% of your monthly take home salary. You can calculate your home loan eligibility and home affordability using Home Loan Eligibility Calculator. You can calculate your EMI using EMI Calculator Excel Model.
Costs & Charges – For pre approved home loans, banks generally charge a processing fee of 0.25%-1% of loan amount. However, if you are an existing customer of a bank, you may get a processing fee waiver.
Let us now look at advantages of a pre approved loan.
Advantages of a Pre Approved Home Loan
Budgeting and Planning – Once, you have a pre-approved home loan and you know how much down payment you can arrange from your own sources, you can easily calculate the maximum value of home that you can purchase. Once, you know "How much House can I afford", it will help you in your home search and better financial planning.
Negotiation Power – A sanction letter from the bank acts like an equivalent cash. Once, you sit with any builder with cash on the table, you can negotiate better prices.
Focus on Home Search – Once, you have arranged finances for your house, you have already finished half the work. You can now focus your time and efforts in home search and ensuring a better deal.
Faster Loan Processing – If you apply for a pre-approved loan from your existing bank, you can easily reduce the processing time to almost one-third of the normal loan processing time. Once, you have pre-approved loan sanctioned, the processing time at the time of taking the loan is significantly reduced as the basic verification and validation is already done.
Shows Your Seriousness – If you are searching a property through a real estate agent, the loan sanction letter from bank will show your seriousness. The agent would put in more efforts in providing you some good deals since he would be sure of the purchase and his subsequent commission.
Looking at the advantages of a pre approved home loan, it may look tempting.However, before getting over excited let us have a look at certain traps associated with pre approved home loans.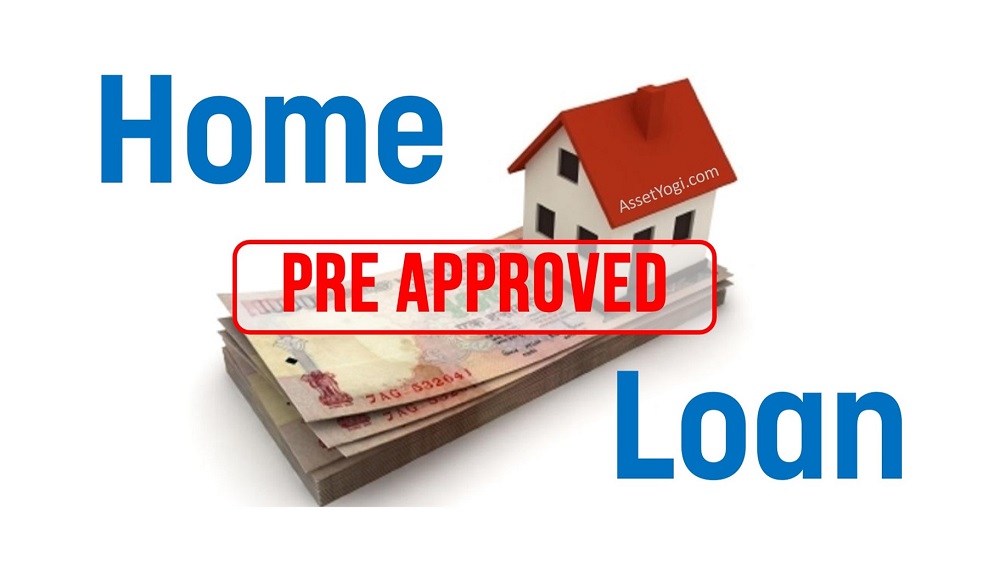 Pitfalls associated with Pre Approved Home Loan
Search Under Pressure – Since, a pre approved loan is sanctioned with a time limit, you would be tempted to close a deal in a hurry and that may not be the best deal. You should not compromise on your research because of the time limit.
Processing Fee – If you do not close a deal within the loan sanction time limit, you may lose your processing fee if you paid for it.
Financial Pressure – With a pre approved loan sanction, you would know the maximum value of a house that you can buy. This may lead you to search a house with the maximum budget in mind. However, you should keep some room for emergencies. Ideally, you should not pay more than 30-35% of your take home salary in EMIs.
Bank may not approve property – Pre approved home loan is sanctioned subject to approval of property by the Bank. Once, you select a property, you must first check with the bank for their approval. Otherwise, if the property is not approved by the Bank, your disbursal will be stalled.
Interest Rate – With a pre approved loan, you are accepting an interest rate without comparing. A higher interest rate can cost you dearly over the long duration of a home loan. Also, pre approved loans are offered with floating interest rates. In case, you want to secure a fixed interest rate, you should avoid a pre approved loan.
Conclusion
Though Pre Approved Home Loans have their merits, they have certain risks associated with them. If you are not finding a good deal in a pre approved loan, such schemes can be avoided. If however, you want to secure yourself, a better option is to first narrow down your home search to a particular locality, size of apartment, developer etc. Then before booking the property, you can get pre approval for home loan. You can approach your existing Bank where you have an account and request a processing fee waiver. This way you can take advantage of a pre approved home loan as well as avoid the pressure of closing a deal within the set time limit. Also, if you could secure a processing fee waiver, you have the option of going to the market and securing a better interest rate.
Over to You
We need your love! Like, Share and Rate this article on "Pre Approved Home Loan",  if you found it useful.
Have something to say or ask? Please comment below.
Become a Smart Real Estate Investor! Get latest Real Estate insights, tips & tricks straight to your inbox.