Real Estate is a common topic that pops up in all group conversations of families, friends, offices etc. Knowingly or unknowingly all of us make our own beliefs about Real Estate which are sometimes logical and sometimes based on our perception. Here we present to you Top 10 Real Estate Myths. Do let us know if you agree with the list or did we miss something which should have made it to the list?
Myth
1 
– Only the rich can afford to invest in Real Estate
Truth – This is a misconception developed by people because they read and hear about property prices in already urbanized areas. The truth however is that India is a developing country and many new cities have to be developed. The opportunities are unlimited across budgets. You just have to do more research and become more active.
Myth 2 

– Real Estate is a high risk investment
Truth – If that is true then what is a safe investment – Shares, Mutual Funds, Bank Deposits, Gold, Commodities? The truth is that all investment classes have their own risks. You should know the risks associated with any investment and take calculated risk. The biggest risk in today's world is not taking any risk at all. Real Estate investment is one of the lowest risk investments that has made the highest number of millionaires worldwide. But since, the stakes are high, people often become over cautious and delay their decisions which itself can be a risk.
Myth 3 

– Debt is bad
Truth – We agree that debt is bad in the form of credit cards, personal loans, car loans etc. But in case of a home loan the opposite may be true. In fact, the biggest secret weapon of all major Real Estate investors is Debt. If you know how to use this weapon properly, you can achieve your targets in 5 years that otherwise would take you 15-20 years. Imagine, what could you do in 20 years with the combined effect of Debt and compounding? But you must learn the ropes before playing bigger games.
Myth 4 

– Real Estate market is bad, we must keep away
Truth – The biggest tragedy of human brain is that it tends to agree with the mass. The pessimistic group thinking scares the optimistic investor too. This group sentiment is the biggest cause of all recessions. But do you know how world's best investors like Warren Buffet have made big money? Simply, by investing at low prices during recessions. The point is that instead of getting into our shells we should rather get excited during bad markets. Bad markets give you opportunities to enter the market at a low price so that you can sell high later.
Myth 5 

– If the property is not close to Central Business District, it's not worth buying
Truth – That is again a wrong notion. Chances are that property prices may have already peaked near CBD. You should however look at upcoming development centres where prices are reasonably low right now with a potential of appreciation in future.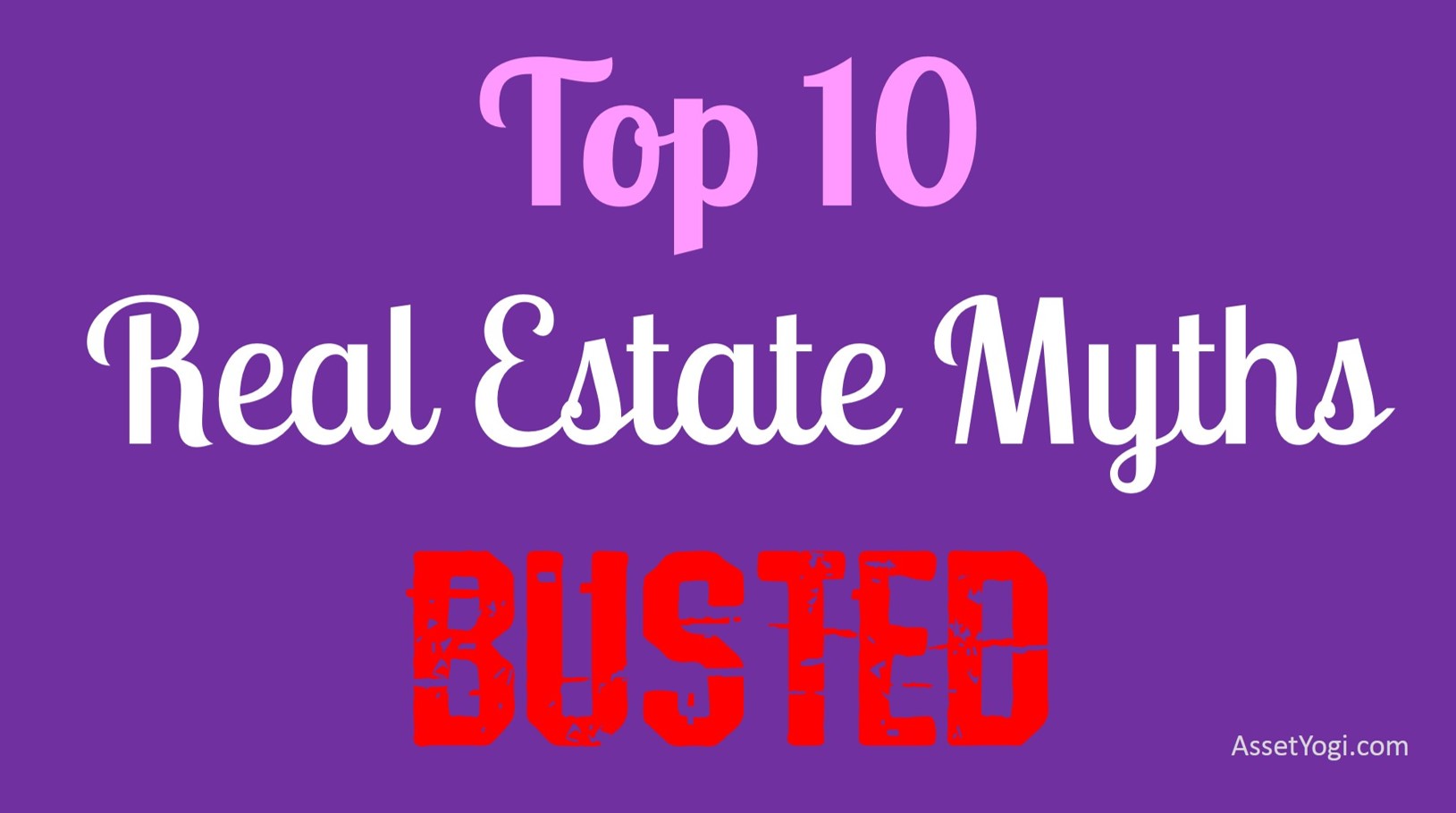 Myth 6

– Finding a property below market rate is one in a million case

Truth – In today's internet age, this can certainly not be true. Like you want to invest, someone else wants to sell for need of money. For urgent need of money, people sell below market prices. Similarly, companies who have liquidity crunch, also lower their prices. You just have to know right places to hunt and need some time at your disposal. In case you can't invest your own time and effort, you can hire a professional who can get you the best deal.
Myth 7

– I will buy property in my local area if I must

Truth – This is an old opinion passed to us by our parents and grandparents. This was probably true till about 20-25 years back when property ownership meant the possession of property. People wanted a check on their tenants and property on a daily/ weekly/ monthly basis. But today the situation has changed. People having their properties in an Indian city are working all across the world. These days professional property management services are available who can manage your property and tenants in your absence.
Myth 8

– Agent is trying to sell me a dream, no project is ever going to come on this barren piece of land
Truth – Well if that was true then cities like Gurgaon, Greater Noida, Bhiwadi etc. will be non – existent and the India story would have never caught world's attention. However, we must be careful about fraud. You must do your due diligence on the developer, check his past record and invest in a construction/ development linked plan to reduce your risk. In case, you are a newbie Real Estate investor, you should hire a professional or have a mentor who can guide you.
Myth 9

– Most of the big real estate investors have been landlords for generations
Truth – Like any other investment class, Real Estate attracts all types of investors across all budgets. A rich landlord investing in a big ticket property in the most happening location should not stop you from investing in a small ticket property in a suburb. Who knows? Tomorrow that suburb can become a hot location and you become the rich landlord.
Myth 10

– Real Estate is an industry full of goons. It is not for the educated class like us.

Truth – Real Estate has started getting organised and professional in India since last 10-15 years. Today, there are hot start ups related to Real Estate which are started by people from prestigious institutions like IITs and IIMs. These days, it is common to see professionals from other established industries like Insurance, Banking, Hospitality etc. shifting to Real Estate.

Hope you liked our Top 10 list of Real Estate Myths.
Over to You
We need your love! Like, Share and Rate the article if you found it interesting.
Have something to say or ask? Please comment below.
Become a Smart Real Estate Investor!
Get latest Real Estate insights, tips & tricks straight to your inbox.