Want to buy or sell property? Not sure whether to use a real estate agent or not? While doing the work yourself can save you some money, the deal can end up being costlier than agent's commission. Perhaps you are not aware how a Real Estate Agent can help you. Here is our list of top 10 reasons – Why use a Real Estate Agent. After reading this, at least you can make an informed decision.
Why use a Real Estate Agent?
1. Knowledge & Expertise
Home buying & selling is a "once in a while" event for most buyers and sellers. It is also the biggest transaction for most. In India, Real Estate fraud is not uncommon. Therefore, it is in our interest to take professional help instead of relying on half knowledge and instincts. A Real Estate Agent brings with him, his expertise on market trends, legal documentation and local knowledge. The trick is to find the right person, who is educated and experienced.
Roughly all real estate agents charge about the same, between 1-2% of transaction cost. So, if we have to pay the same amount, why not look for an agent with better credentials?
2. Huge Time Saving
If you have not bought or sold a house yet, you may not realize how much time and energy it can consume out of you. Property visits take up most of the time for both buyer and seller. A Real Estate Agent comes for your rescue again. Since, the agent will charge you only when the transaction is complete, you don't have to go personally or pay to the agent for every visit conducted.
Once you appoint a professional, it is in his interest to close the deal as soon as possible. So, by hiring a Real Estate Agent you can focus on your work while the agent works on your deal.
3. Focused Search
If you are looking to buy a house, a real estate agent can help you get exactly what you want in minimum time. Some people feel that they can do their entire home search online. But they don't understand that Real Estate is a different game. Of course, best place to start your search is online, but do not end it there. Unlike many standard products that are sold online, every house is different. The Italian marble that is shown in the picture online can be of a different house. The seepage or termite in the house will never be shown to you in pictures. It is highly unlikely that you can get complete information online. A Real Estate Agent bridges this gap quite effectively. For eg. if you are looking for a 3 BHK with one servant room with a separate entrance, the agent is in a better position to show you exact or nearest matches to your requirements.
4. Pricing Guidance
As said earlier, most home buyers and sellers are not aware of recent market trends. All Real Estate websites list only the asking price of owners and not the transacted price. Asking price can be way higher than the real price. On the other hand, a Real Estate Agent is aware of latest price trends and real transactions that have happened in a locality. A Real Estate Agent would ensure that your interest is protected and get you the best price.
5. Better Negotiation
A buyer wants the lowest price and a seller wants the highest. If both are reasonable people, deal would be a cake walk. But that is never the case almost. That is where a real estate agent plays a role. A Real Estate Agent is aware of the latest market trends and is well equipped to handle negotiations. It is his everyday job. An agent will bring two parties (buyer and seller) on the table only once the difference between asking and offer price comes to a close range. So, by the time you sit on the negotiation table, half of the negotiation will already be done. A real estate agent can also play the bad guy in a transaction, preventing the bad blood between a buyer and seller, that can kill a deal. Keep in mind that seller can reject a potential buyer's offer for any reason. An agent can help by speaking for you in tough transactions and smoothing things over to keep them from getting too personal.
Other than price, your agent can also negotiate any repairs required in the house that you can ask the seller to do before final payment. Or, your agent can ask for a discount citing repairs. Please do not underestimate the power of negotiation. In just half an hour of negotiation, you can either lose or make lakhs of rupees. Choice is yours.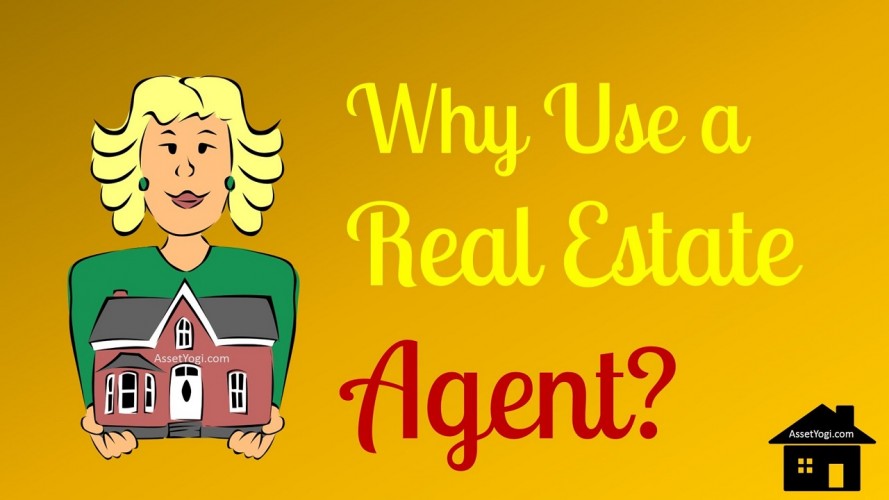 6. Investment Advisory
In case you are buying a property from an investment point of view, your agent can again play a big role in getting you the right property and then selling it at the right price point. These days, there are many educated Real Estate professionals in the market, who can guide you on your investments. A Real Estate Agent knows that he will make money, only if you make money.
7. Agents have Great Resources
Online Marketing – You may initially feel that these days you can close a Real Estate transaction online. However, this assumption is far from reality. Do you know most listings (almost 90%) on Real Estate websites are provided by Agents? Do you also know that even if you purchase a listing, it will be superseded by new listings within no time? You may also not know that Real Estate Agents get huge discounts on listings because they give maximum business to these Real Estate websites. So, if you rely only on websites, what would be the result? Your transaction will get delayed. In Real Estate or for that matter any investment, time is very crucial. You may not be able to afford the same house a month later. Real Estate Agents know how to sell homes. Today, prospective buyers expect professional photos and videos to accompany your listing. Let your real estate agent handle staging and marketing your home across various channels. Plus, let them screen candidates before you spend your extra time cleaning your home for a property visit.
Agents' Network – Real Estate Agents have a big professional network. If you hire a Real Estate Agent and if he could not show you a house that exactly matches your requirement, he would use his network to show you a wider choice of houses. You do not have to pay anything extra to the agent. The agent will share from his commission. Typically, agents of a locality have access to complete inventory of that area.
Contractors – If you are selling a house, the house may require lot of repairs to be done. Similarly, when you buy a house, you would like to renovate it as per your taste. When you buy or sell through an agent, he can refer you to best contractors in the area who offer best price and quality.
If you hire a Real Estate Agent, all his resources will be at your disposal.
8. Legal Documentation
Legal documentation process is another important area where your Real Estate Agent will help you. Your agent will ensure that all payments related to property like property taxes, Electricity Bills, Water Charges, Society Maintenance Dues are up to date. He will also hand hold you through the transaction, right from the Agreement to Sell to Payments & Sale Deed Registration. For instance, when you buy or sell a property, an agreement to sell is signed at the beginning between buyer and seller to protect interests of both parties. It provides exit clauses in case any of the parties is not able to fulfil the deal. An experienced agent can guide you through such contracts and clauses. It is always good to involve a professional third party in such high worth transactions.
9. Local Laws & Codes
The Real Estate Agent can guide you through local laws of municipal corporation, water board, building codes, electricity boards and other such government bodies. For instance, if you are a professional and you thought you could start your practice in the basement of your house. And after buying your house, you realize that you cannot do it. The whole purpose of buying will be lost. Your agent can guide you on this and much more as he is aware of latest master plan, government laws and codes. It will be really difficult for you to learn about all these codes in a short time.
10. Remove Chances of Fraud
A Real Estate Agent will check all property papers on your behalf. He would ensure that property has clear title and is free from all encumbrances. As said earlier, Real Estate frauds are not uncommon in India. There have been cases when one property is sold to two people or when some other party also claims title to the property. By hiring a professional Real Estate Consultant, you can reduce chances of cheating or fraud.
Unlike the popular belief, a professional Real Estate Agent offers much more value than just showing properties. At the same time, the industry is full of unprofessional people who are just interested in their brokerage and not on the quality of services. Therefore, you must look at the agent's credentials before you finalize on one.
Over to You
We need your love! Like, Share and Rate this article on "Why Use A Real Estate Agent?",  if you found it useful.
Have something to say or ask? Please comment below.
Become a Smart Real Estate Investor!
Get latest Real Estate insights, tips & tricks straight to your inbox.