Planning to buy a house? Have you calculated your home loan eligibility and how much down payment you would need to fund your house? One of our subscribers had asked us to give some tips on how to raise money for down payment. In this article, we explain all aspects of down payment and give you some smart tips on how you can arrange the down payment for home loan.
For illustration purpose, let us assume that you want to purchase a house worth Rs. 50 lakh and that your net monthly take home salary is Rs. 1 lakh. You currently do not have any other outstanding loans.
Down Payment for Home Loan – The Concept
When you purchase an expensive item like a house, you can fund your transaction by paying some amount upfront in the form of cash and balance through loan, which can be paid in monthly EMIs. The cash portion that you are required to pay upfront is known as the Down Payment.
Banks do not finance the entire amount of your purchase price. Generally, banks fund upto 90% of small purchases and upto 80% of higher purchase price. Balance 10% or 20%, you have to arrange yourself. This means that you would have to arrange Rs. 10 lakhs towards down payment for your house.
Home Affordability
Before you start your house hunting, you must first assess your home loan eligibility and home affordability.
Please note that as per new RBI regulation, Banks do not fund Registration and Stamp Duty charges. So, you would have to arrange an extra 10% (Rs. 5 lakhs) towards transaction costs that would include Registration and Stamp Duty charges, Brokerage Fee and one-time RWA membership fee etc. And if you are purchasing a raw flat, you would have to spend about 10% (Rs. 5 lakhs) on renovation. Arranging Rs. 20 lakhs upfront can become intimidating at times. Unless, we plan our finances well, we can end up in severe cash crunch at the last moment or the deal may also fail.
Let us now look at some tips on how to arrange Down Payment for Home Loan.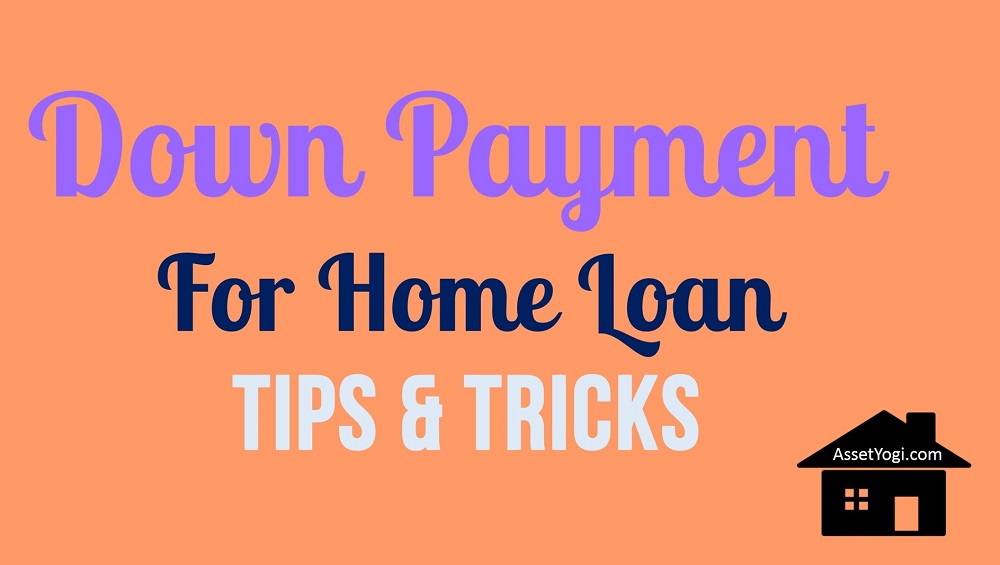 7 Smart Tips to Raise Down Payment for Home Loan
Liquidate Savings and Investments – This is the best and most cost effective option. You can liquidate your investments in Stocks, Mutual Funds, Gold, Fixed Deposits etc. You can also look at withdrawing your Provident Fund, which will not attract tax if you are withdrawing after five years of continuous employment and for the purpose of purchasing a house.
Borrow from Friends and Family – If you can arrange some amount from friends or family, this is another good option where you are not bound to make compulsory monthly payments. A word of caution here – Borrowing high amounts from near & dear ones and then not able to pay in reasonable time can sometimes hurt your relations. So, use your judgment on how much you can reasonably borrow.
Non-Banking Financial Corporations (NBFCs) – As discussed earlier in this article, Banks are not allowed to fund Registration and Stamp Duty charges. But a NBFC can include those charges in the purchase price of the house. Though, interest rates charged by NBFCs are marginally higher (0.1-0.25%), NBFC should become the first choice for applying a home loan for someone falling short of cash. This basic step can easily reduce your burden by Rs. 3-4 lakhs.
Loan Against Investments – You can consider taking a loan against your existing investments like Mutual Funds, Fixed Deposits, Gold and Life Insurance Policies. But in most cases, you would be paying a higher interest here than returns from your investments. So, it is better to liquidate your investment instead of taking a loan against it. However, in case of Life Insurance Policy, it may not be possible to liquidate. So, you may consider taking a loan against your policy. Life Insurance Corporation of India offers very attractive loan rates against policies. In addition, the pressure of repayment is less. You can either repay the loan with interest or continue paying the interest and allow the loan to be deducted at the time of the claim payments.
Home Improvement Loan – Another creative way of financing your Down Payment is to take a home improvement loan which comes at a marginally higher (upto 0.25%-1%) interest rate than the home loan rate. Another advantage of a home improvement loan is the loan tenure of upto 15 years, which is as good as a home loan. But, if you are buying an under-construction property, bank will not be able to grant a home improvement loan. Another important thing to note here is that Banks or NBFCs will look at the overall loan eligibility. As per guidelines of most banks, your overall EMI should not be more than 50% of your monthly take home salary. For example, for a take-home salary of Rs. 1 lakh, maximum EMI allowed, including all loans, would be Rs. 50,000 at best. In such a situation, you can consider adding a co-applicant (wife, parents, siblings).
Loan Against Property – If you already have a property, you can consider taking a loan by mortgaging that property. Interest rates on loans against property are 1-2% more than home loan. You can consider this option after exhausting all above options.
Personal Loans and Private Financing – This is a very expensive option. With interest rates of 14-20% and maximum tenure of 7 years, personal loans can put severe pressure on your finances. Even worse is private financing where private money lenders charge exorbitant interest rates in the range of 18-36% for short term loans. Personal Loans and Private Financing should only be taken in case of an emergency and should in most cases be avoided.
Bonus Tip – Though Banks allow you to pay EMIs upto 50% of your monthly take home salary, you should avoid stretching yourself upto that limit. You should be able to build some cash reserve to cover yourself against risks of job loss, any emergencies etc. As a thumb rule, your overall EMI should not be more than 30% of your monthly take home salary.  It is always better to save and then invest or spend. So, you should try to increase your Down Payment for Home Loan, as much as you can.
Hope you can now easily raise upfront money for Down Payment for Home Loan and for additional costs.
Other Useful Resources:
Rent vs Buy Calculator – To help you decide whether you should rent or buy a house for your situation.
EMI Calculator – Calculate EMI for any loan amount, interest rate and tenure. Also check out Smart Tricks to save your EMI.
Over to You
We need your love! Like, Share and Rate this article on "Down Payment for Home Loan", if you found it useful.
Have something to say or ask? Please comment below.
Become a Smart Real Estate Investor!
Get latest Real Estate insights, tips & tricks straight to your inbox.