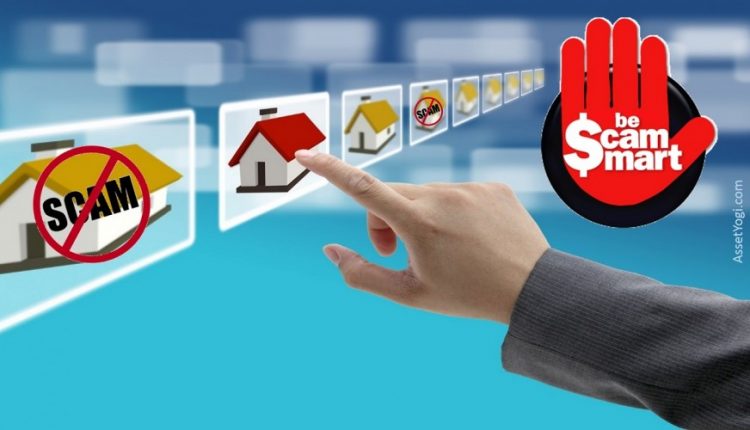 Property Fraud – Avoid Top 10 Real Estate Scams in India
Real Estate market in India has boomed over the last decade and a half. But with no regulations in place, property fraud has also increased at the same rate. In this article, we discuss top 10 real estate scams in India and how to avoid them.
Though investors these days are better informed, real estate scammers have spared no one. From NRI investors to HNIs, from rural landlords to the top corporate executives, everyone has suffered at some point or the other. Although we cannot give you a pill that will remove all your worries, we have tried to highlight major real estate scams in India and how you can avoid property fraud by following some cautionary steps before investing.
Top 10 Real Estate Scams in India
1. Title Fraud
In this type of property fraud, a scammer will forge property title documents and claim himself as the owner or power of attorney holder for the property. The scammer generally targets properties that are either lying vacant for long time and properties whose owners are staying outside the state or country. After forging documents, he would sell the property to innocent buyers and by the time a fraud can be detected the scammer flees.
Another version of title fraud is executed by fake or fly-by-night builders. The builder sells a project on land that is not owned by him. He would promise great returns on the project and offer freebies to lure innocent investors. The investors, in the name of promising future, forget to check all title documents only to realize later that they have been duped.
2. Rushed Sales
Rushed sales is a technique used by real estate marketing professionals to make the investors believe that if they don't act now they will miss on the opportunity forever. They will try to create a situation of scarcity. For instance, they will tell you that they have only 3 units left in the project at this rate and the rates will increase in next 3 days. And in order to save money, you may take a decision that you will repent for many years. Generally, rushed sales technique is used by someone to hide facts and to push sales.
3.  Assured Returns
These days, many builders offer assured 12-15% returns per annum on the investment till the handover of property. Some, even promise assured rental returns even after the possession. At the time of investment, they will also give you post-dated cheques. The real problem occurs when any of the cheques bounces. Recently, a Gurgaon based builder has been accused of defrauding more than 700 investors for over Rs. 1000 crores in a similar assured returns scheme.
4. Inordinate Delays
This is the most common problem in under-construction properties. Sometimes delay can happen for genuine reasons for eg. shortage of labor or materials, a natural calamity, socio-political disturbances etc. But most often builders will give various reasons for delays which are not true. The real reason in most cases is extreme greed. For lack of regulation, the builder collects money from investors and instead of using that money for construction, he diverts it to buy more land. In a rising market this may work to builder's benefit as he can always sell more units to raise more money. But as soon as the real estate market stagnates or goes down, the builder is exposed. He will not have money to construct and he cannot sell the land or more units to raise more money.
The poor investor has to bear all losses for he has to pay rent as well as interest on the home loan. There are thousands of such project delay cases going on in various courts all across the country.
5. False Promises
At the time of sales, the builder may give you an offer which you cannot refuse. For instance, in an advertisement, a builder promises a rate which is 10% below market rate, a 12% assured return, assured delivery within 3 years, a buy-back scheme and a penalty of Rs. 10 per sqft. in case of any delays. You may think, "what else can I ask for? I am protected 100%." But before you jump on this deal, Hold and Think! Aren't these just promises? What is the guarantee that he is going to deliver on each promise?  What if he just uses your money to earn higher returns and later returns your money citing some problems? The above example is inspired from a real incident. After an year of launching such a project, the builder did not have money to pay radio channels where he was running the advertisements.
6. Forced Cancellation
In a rising market, the builder will try to find all types of faults with you and your payments. He will keep looking for excuses to cancel your booking so that he can sell the same unit to another investor at a higher rate. Some builders deliberately delay projects so that many investors panic and cancel their bookings. In such a case, the builder uses investor's money without interest and also charges a cancellation penalty.
In some cases, the builder may delay the construction and plant his own people in the market, who may offer to buy your unit in the stuck up project at a lower rate.
7. Pre-Launch Scam
In a pre-launch scheme, the builder offers few units at a discounted price till the time he receives the approval. In an ideal pre-launch project, the builder should have applied for approvals and there should be no reason for approval to be rejected. However, some builders use this scheme as a bait to attract investors. The builder sells units without applying for approvals and has no plans to get approvals. The only aim is to raise money, use it to buy land or generate higher returns.
8. Deviation from Plans & Specifications
At the time of selling, almost all builders show a beautiful sample flat and promise great amenities and specifications. However, by the time you are offered possession, you can see cost cutting across the complex – in common areas, facilities, parking and inside your home. In some cases, to extract more money from investors, the builder may increase the super area of the property without increasing the actual carpet area.
9. Selling same unit to multiple investors
In some cases, scammers sell same property to multiple investors. In other cases, the builder may sell more units than are possible in the area. For instance, a builder in Rajasthan sold 3-4 times the number of plots that could be developed in a land parcel that was owned by him. Now, all investors are fighting legal cases. The builder is on the run.
10. Encroachments
Encroachments are more common in plotted developments. Local land mafia tries to encroach land that has been lying unoccupied for a long time or where the owner stays outside the state or country.
In some cases, a scammer may take the property on rent on a long term lease and may not vacate it. He may also try to sell the property by creating forged property papers.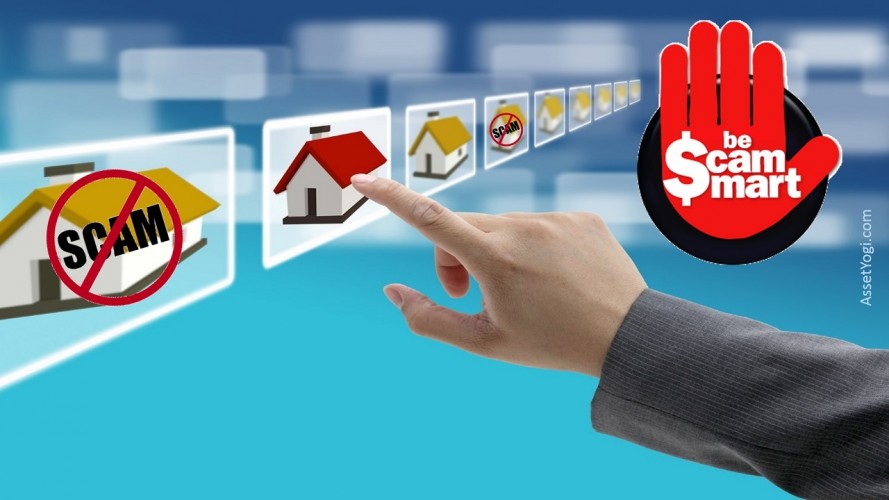 How to avoid Property Fraud or Real Estate Scams in India?
1. Check Builder's Track Record
It is natural for any investor to get attracted towards low pricing and lucrative schemes. But what is the use of such schemes when the project never sees the light of the day. Therefore, you must check builder's past record of delivered projects. This way you can reduce your construction risk.
2. Understand Details
As the popular saying goes, "The devil is in the details", while buying property you must have complete clarity on documents and transaction details.
In case of an under-construction property:
Ask for Builder-Buyer Agreement before investing and check all details,
Ensure that the builder has taken all approvals. Invest in a pre-launch project only when you are sure that the builder will get approvals soon. Otherwise, it is better to wait for approvals,
Understand delay clauses and ensure that the builder is committing a reasonable penalty in case of any delays.
In case of ready-to-move-in property:
Involve a professional agent to ensure smooth transaction,
Check all property papers to ensure title ownership, that if there is a loan on the property and that property taxes are paid up,
Check Agreement to Sale and payment terms.
3. Don't Rush
Never take a hasty decision. Complete your due diligence first and invest only where your basic criteria are met.
4. Ask Questions
If you have a doubt, ask your agent or the marketing team of the builder. For eg. if the builder has obtained approval, ask for the approved layout else ask for a copy of approval application if the property is at pre-launch stage. You should not repent later for ignoring minor details.
5. Take Professional Help
In case you do not have expertise to conduct due diligence on property, you should always seek professional help from a real estate expert or a legal counsel. You will save lakhs of rupees in interest and rental costs that you will incur if your project is delayed or never takes off.
6. Get Assurances in Writing
Builders promise moon in their advertisements and brochures. However, if you read the fine print, they will have a disclaimer saying that images, plans and amenities are indicative only. Even during construction phase, the builder will give you oral assurances, which have virtually no meaning. Therefore, it is important that you get everything in writing. Ask them to communicate with you through their official email id or on their letterhead.
7. Choose Bank Approved Projects
Banks perform their own due diligence before approving a project. So, by investing in a bank approved project you can reduce your risk to a great extent.
8. Seek Personal Recommendations
If you can get personal recommendations from any of your friends, family members or colleagues about their experience with a particular builder or a particular real estate agent, it is always better than relying on online opinions, many of which may be biased.
Final Word
Now that you know all major types of real estate scams in India, we hope that you will not rush your decision of investing. Remember the old adage, "If it seems too good to be true, it probably is". While you may come across real great deals in real estate, you should always perform your due diligence to avoid property fraud. You should sign the booking amount cheque only if the property passes all your tests. Remember, a little bit of research can save you lakhs of rupees and a whole lot of mental agony.
Over to You
We need your love! Like and Share this article on "Property Fraud – Avoid Top 10 Real Estate Scams in India", if you found it useful.
Have something to say or ask? Please comment below.