Real Estate Cycle in India has Lengthened to 7-8 years, says Anuj Puri
Real Estate in India has been going through a rough patch for a past couple of years. Anuj Puri, a well known Real Estate professional, explains the existing situation and what lies ahead in current socio-economic scenario, in this interview of our "Experts Speak" series.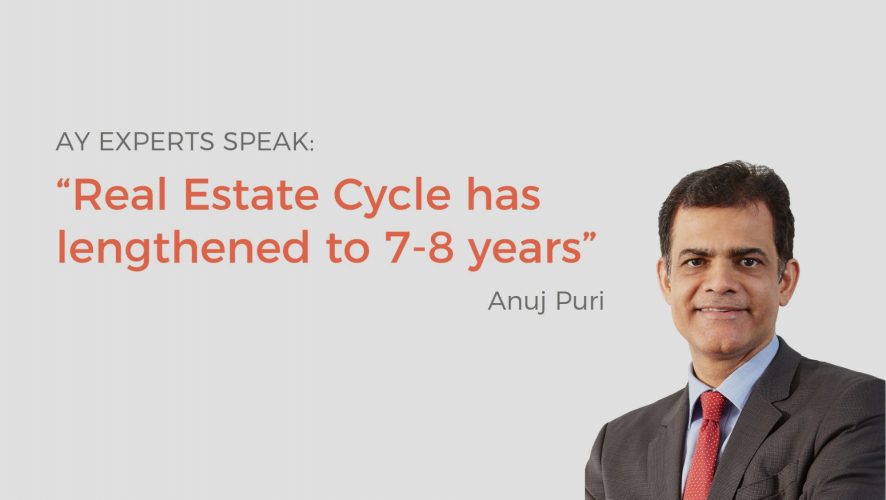 Team AY: After a successful stint with JLL, you have decided to become an entrepreneur again. Congratulations on the move. Would you like to share a bit about your future plans? Are you still associated with JLL in some way?
Anuj Puri: I'm definitely excited about the future, and will be announcing my new plans for it soon.
Team AY: Real Estate is a cyclical industry and many experts believe that peak to peak cycles are about 5-6 years long. Generally speaking, last peak in Indian Real Estate was seen in early 2012. It is about 5 years since last peak. Do you see an uptick in the next 1-2 years? Are Real Estate cycles getting longer in India?
Anuj Puri: When we speak of 2012 being the last peak, that is synonymous with residential markets. For office markets, the last peak was 2008 and post that we still haven't seen the peak in most office markets, barring the Southern cities. This shows that the cycle has lengthened to 7-8 years. In the residential sector, the cycles have similarly lengthened.
We are no longer in an era when investors can make super-normal profits over a short duration. Project sales cycles are lengthening, and projects are witnessing moderate price growth – that too, only when construction activity has reached an advanced stage. The times when one could expect a price spurt during project launch and the initial six months' sale period are over, at least for now.
The returns cycles are longer, and typically we are in a partial recovery phase which will pick up momentum post the structural reforms which will bring back the eroded buyer confidence.
Team AY: After recent wins in UP and Uttarakhand, BJP has its government in many major states in India and also at Centre. Now that we can presume better coordination between Centre and State governments, what can we expect for the Real Estate industry?
Anuj Puri: We saw that BJP-led state governments were quite proactive in pushing the Centre's agenda on Housing for All, reforms such as RERA, updating land records, imbibing technology, and so on.
The current wins in UP and Uttarakhand definitely point towards these states moving on the path to implementing the Centre's agenda in these states. We can definitely expect to see more real estate activity, faster clearances and implementation of RERA in the spirit of the central legislation.
The diluted UP RERA could see an overhaul to address the current concerns of buyers affected by long delays, especially in markets such as Noida and Greater Noida.
Team AY: Modi government has given a big push to affordable housing. We have been hearing about great demand in affordable housing segment for some years now. But we have not seen major participation from private developers in the affordable housing segment. Any particular reason?
Anuj Puri: Affordable housing remains a low-margins business, and despite the push of the Centre, local state governments have been slow to advance the agenda.
Low-cost housing can succeed only with easier availability and access to cheaper lands and faster clearances, along with the financial support to the affordable housing sector that is already promised by the central government through the infrastructure tag.
Local-level reforms, opening up of more lands and quicker approvals are needed to bring private participation into this sector so that it becomes financially viable for developers to participate in affordable housing projects.
Team AY: There was a huge demand surge in office space in Tier 1 cities like Gurgaon and Bangalore, mainly driven by Start-ups. Now that start-up funding is shrinking, do you see a demand reduction in Commercial Real Estate in such cities? 
Anuj Puri: Though start-ups are driving demand and their share was quite high in cities like Bangalore and NCR, they were never primary drivers. Also, it is to be noted that technology start-ups are still doing well. It is mainly e-commerce start-ups that are facing problems.
The funding is also not shrinking but chasing the right business models which are sustainable. Inorganic and sudden growth for driving up valuations and pushes by and for VC funding have caused big unicorns and start-ups to face trouble.
Sound business logic driven by entrepreneurship will still thrive, and we will continue to see start-ups growing. Some sense of moderation moving towards maturity will ultimately lead to more stable space take-up by start-ups.
Team AY: We keep hearing about massive lay-off news from IT majors like TCS, Infosys etc. and latest one from Cognizant. The reason given is that many jobs are becoming redundant because of automation. Also, many companies these days promote work from home. Do you see this as a trend that Commercial Real Estate Developers and Investors should be worried about, for there could be reduced demand for large office spaces in coming future? 
Anuj Puri: There are definitely signs of lower-level IT jobs being replaced by automation. This will adversely impact low-value offshoring business currently being undertaken in India.
However, India has also moved up the value chain in terms of doing more high-end software development and IT jobs, which will continue to drive momentum in the office markets.
Also, even as the IT sector grow slowly going forward, the slack is likely to be picked up by the BFSI and manufacturing/industrial sectors. Therefore, developers and investors will continue to see healthy demand for quality office spaces.
Team AY: Project delays in the recent past have hampered the Real Estate investment sentiment. Now people have lot of hopes from RERA. What is your opinion on implementation of RERA so far?
Anuj Puri: RERA implementation is an inescapable reality, and it is really now up to the states to ensure they implement it in the true spirit of the legislation and do not dilute provisions to provide escape routes for some sections of the developer community.
It is likely that we will see increased consumer activism going forward, and more issues of delays and customer problems will come out seeking a redressal under RERA. Many states are in advanced stages of putting out the draft rules for public comments and thereafter notifying them, while others are drafting their rules.
Progress is varied across states and many may miss the 1 May implementation date, but we will get there.
Team AY: According to you, which is the best place to invest in Real Estate in 2017? Southern cities with their rational pricing look good bets for investment going forward.
Anuj Puri: Select investment opportunities in residential will exist in the big cities such as Mumbai and NCR. Commercial office investments should be directed in leased assets in the top six cities.
Opportunities will also exist in select tier 2 cities with established business communities or investments flowing in, such as Ahmedabad, Kochi and the new capital of Andhra Pradesh – Amravati.
Team AY: What advice would you give to Real Estate investors in the current market?
Anuj Puri: Due diligence on developer track record in terms of his financial strength and delivery capabilities and project clearances, and a level-headed and patient approach with a mid-to-long-term investment horizon. Focus on growing commercial markets which will drive neighbouring residential demand.
About the Expert: Anuj Puri is a well-known figure in Indian Real Estate industry. He was Chairman and Country Head of JLL, India from where he resigned recently to pursue his entrepreneurial goals.