Ghaziabad Master Plan 2021 – Map, Summary & Free Download!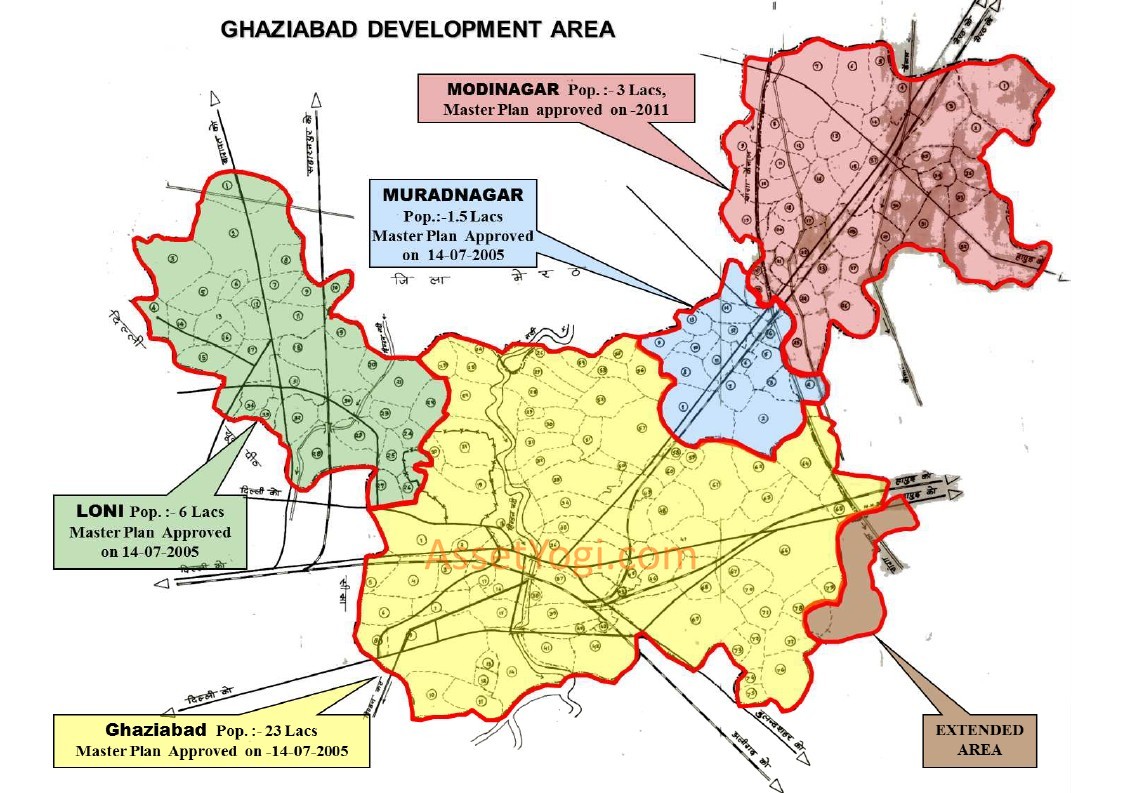 Ghaziabad Master Plan 2021 has been prepared to provide regulations for development and building activity in Ghaziabad City, Loni, Muradnagar, Modinagar and Ghaziabad Extended Area.
You can download the proposed land use maps from below. Check out the Summary of Ghaziabad master plan 2021 below. To share your opinions and suggestions, please use the comments section at the end.
Downloads
Download Ghaziabad Master Plan 2021 (complete map) and area wise master development plans for Ghaziabad City, Loni, Muradnagar, Modinagar, Ghaziabad Extended Area and Ghaziabad Metro.
Ghaziabad Master Development Plan 2021
Areawise Development Plans:
1. Ghaziabad Master Plan 2021 (Ghaziabad City)
2. Loni Master Plan 2021
3. Muradnagar Master Plan 2021
4. Modinagar Master Plan 2021
5. Ghaziabad Extended Area Master Plan 2021
6. Ghaziabad Metro Plan
Summary – Ghaziabad Master Plan 2021
Introduction
Ghaziabad is a city in the Indian state of Uttar Pradesh, situated about 2.5 km from the Hindon river.  On the north, it is bound by the district of Meerut, on the south by that of Bulandshahar and Gautambudh Nagar, on the south-west by Delhi and on the east by the newly formed district of Hapur.
As its boundary is adjacent to Delhi, it acts as the main entrance to Uttar Pradesh and hence is also referred to as "Gateway of UP". It is a part of the National Capital Region of Delhi.
Ghaziabad is a large and planned industrial city, well connected by roads and railways, and is the administrative headquarters of Ghaziabad District as well as being the primary commercial, industrial and educational centre of western Uttar Pradesh and a major rail junction for North India. It is the second-largest industrial city in Uttar Pradesh, after Kanpur.
Infrastructure
Ghaziabad is a rapid developing city with sky scrapers and malls. The urban areas of Ghaziabad include Indirapuram, Vaishali, Kaushambi, Vasundhra, Surya Nagar and the old areas such as Kavi nagar and Raj nagar.
The plan to expand metro from Dilshad garden to Lal Kuan has been approved and possibly by 2019 it would be functional. The expansion of Metro line from Vaishali to Mohan Nagar via Vasundhra is under consideration.
The main railway station of Ghaziabad is Vijay Nagar railway station. A proposal has been made to widen National Highway 24 (NH-24) from six to eight lanes on the stretch between the Ghaziabad-Delhi border and Dasna as a large number of residential and commercial projects are coming up along the highway.
Ghaziabad Master Plan 2021
Ghaziabad Master Plan 2021 was prepared and approved in the year 2005. The development plans were prepared separately for the areas of Ghaziabad City, Loni and Muradnagar. Later, the development plan for Modinagar was also prepared which was approved in the year 2011.
Since 2005, many Government sector and Private sector mega projects have been conceived and are at different stages of implementation in Ghaziabad. It was realized that the provisions of current Master Plan are unable to cater to the forthcoming needs that require provisions of world class infrastructure.
Moreover, the city of Ghaziabad is situated in the NCR, declared as 'Metro" in NCR Regional Plan-2005 which is one of the fastest growing economic zones of the nation.
In this background it was decided to extend the Urbanisable area of Ghaziabad Master Plan-2021 and accordingly prepare a Master Plan for the extended area and integrate major infrastructure projects. For this purpose the Ghaziabad Development Authority is in the process of preparing the Master Plan for extended area with the help of expert private consultant.
The following table shows various development plans with population and year of approval:
| | | | |
| --- | --- | --- | --- |
| S.No. | Ghaziabad Master Plan 2021 | Population | Approved (Year) |
| 1 | Ghaziabad City Development Plan | 23 lacs | 2005 |
| 2 | Loni Development Plan | 6 lacs | 2005 |
| 3 | Muradnagar Development Plan | 1.5 lacs | 2005 |
| 4 | Modinagar Development Plan | 3 lacs | 2011 |
| 5 | Extended Area | – | Under Preparation |
Development plans and Zoning Regulations can be downloaded from links given above.
Ref: Ghaziabad Development Authority