Greater Bhiwadi Master Plan 2031 – Map, Summary & Free Download!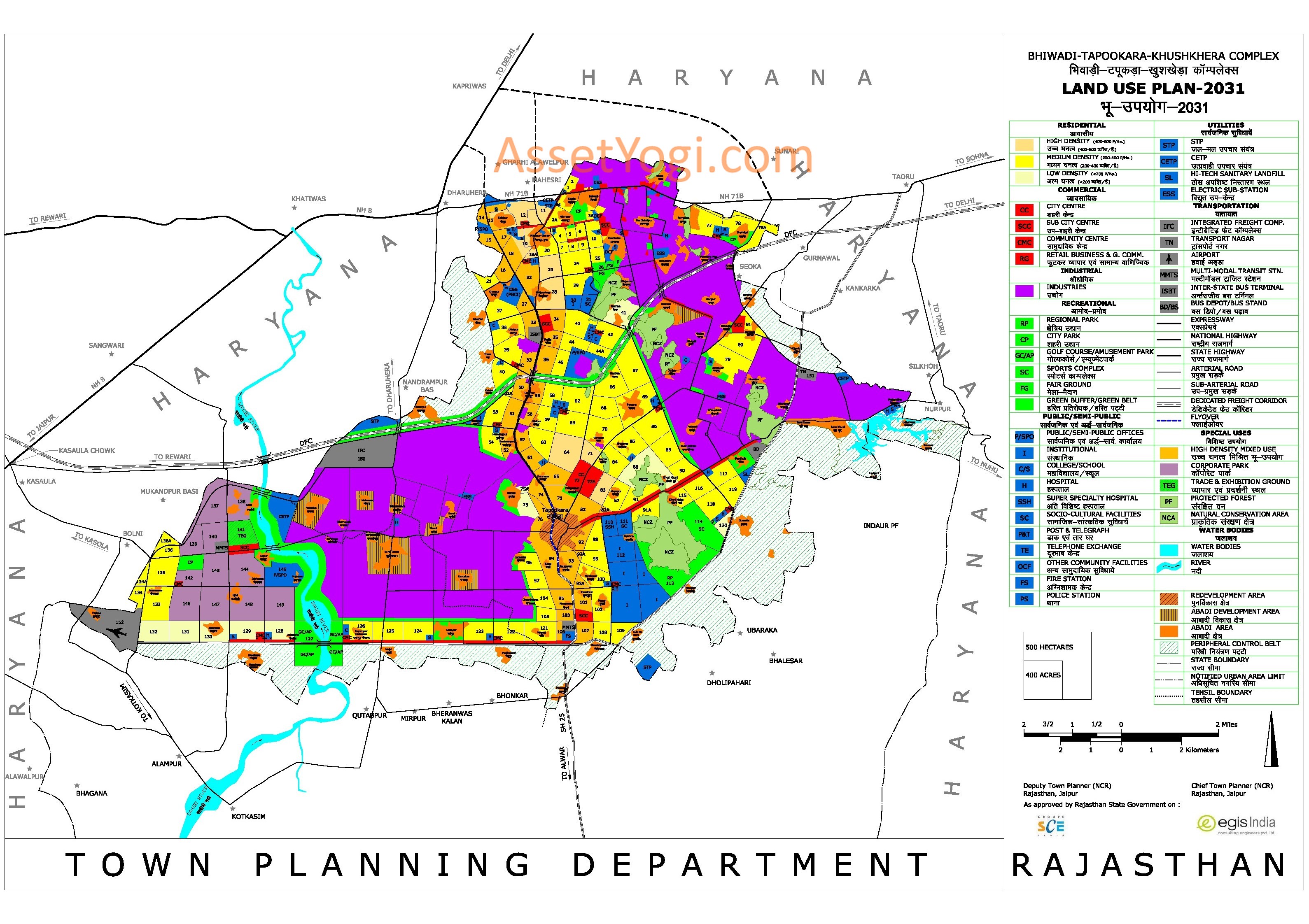 Greater Bhiwadi Master Plan 2031 has been prepared to provide vision & regulations for development and building activity in the Greater Bhiwadi Region (Bhiwadi‐Tapookara‐Khushkhera Complex) of Rajasthan. It envisages a population of 15 lakhs by 2031 and accordingly 21,483 hectares of land is allocated under the proposed land use by 2031 in greater bhiwadi master plan.
You can download the complete report for master development plan of greater bhiwadi and land use map from below. Check out the summary of Greater Bhiwadi master plan 2031, in case you don't want to go through the complete master plan report. To share your opinions and suggestions, please use the comments section at the end.
Downloads
Download Greater Bhiwadi Master Plan 2031 Map and Full Report.
Summary – Greater Bhiwadi Master Plan 2031
Introduction
Greater Bhiwadi (Bhiwadi‐Tapookara‐Khushkhera Complex), is a fast developing industrial township located at the north‐eastern boundary of Rajasthan in north‐eastern part of Alwar district. Bhiwadi is situated at a distance of 5 Km from Dharuhera on NH‐8.
The NCR Regional Plan 2021 has proposed Bhiwadi to be developed as a major Regional Centre. Greater Bhiwadi Complex is comprised of 99 revenue villages with an area of about 250 Sq. Km. Bhiwadi, Tapookara, Khushkhera and Chaupanki are major industrial nodes in the complex hence are relatively developed. Bhiwadi, the only town had been notified as census town in 1991 and was recognised under Class‐III category in 2001.
The Greater Bhiwadi Complex is spread over both sides of the Bhiwadi‐Alwar road. Bhiwadi located on northern most part of Greater Bhiwadi complex is 55 Km away from the Indira Gandhi International Airport, 200 Km from State Capital Jaipur, 90 Km from Alwar, 40 Km from Gurgaon, and 60 Km from Faridabad.
Bhiwadi was a small rural settlement with a meagre population of 1624 persons in 1971. With the decision of Rajasthan Government to develop Bhiwadi as an industrial centre, due to its proximity to Delhi and other locational advantages, Bhiwadi started developing as an industrial township and registered its presence on the industrial map of the country.
Rajasthan State Industrial Development and Investment Corporation (RIICO), since 1975, has been instrumental in the development of Bhiwadi as its preferred Industrial Area. Bhiwadi had grown to a size of 15000 population in 1991 when for the first time it was declared a Census Town which further had grown to a size of 33877 in 2001.
Background
In view of the approaching terminal year of existing Master Plan, geographical growth of Bhiwadi beyond urbanisable limit, RIICO led fast expansion of industrial base and identification of Greater Bhiwadi Complex as Regional Centre in the Regional Plan of NCR, State Government decided to extend the urban area limit to include notified 99 revenue villages and prepare Master Plan for the horizon year 2021, coterminous to NCR Regional Plan.
But on request of NCRPB, the horizon was extended to 2031 as Sub‐regional Plan for Rajasthan Sub‐region is also is being prepared for 2031. Therefore, with a view to improve the quality of life of residents of Bhiwadi‐Tapookara‐ Khushkhera (Greater Bhiwadi) Complex in Alwar District (Rajasthan Sub Region of National Capital Region), the Greater Bhiwadi Master Plan 2031 (also known as Bhiwadi-Tapookara-Khushkhera Complex Master Plan 2031) was prepared.
Viable Size of the City
POPULATION PROJECTION
To work out the viable size of the city by perspective year 2031 population growth trend has been analysed and future population has been estimated. Alternative methods have been used to project the population as shown in Table.
Population Projection:
| | | | | |
| --- | --- | --- | --- | --- |
| | Simple Arithmetic | Geometric | Linear Graphical‐ | Labourforce |
| Year | Method | Increase | Method | Participation Method |
| 1971 | 46807 | 46807 | 46807 | 46807 |
| | | | | |
| 1981 | 59272 | 59272 | 59272 | 59272 |
| | | | | |
| 1991 | 88881 | 88881 | 88881 | 88881 |
| | | | | |
| 2001 | 151844 | 151844 | 151844 | 151844 |
| | | | | |
| 2011 | 235358 | 259371 | 293563 | 648000 |
| | | | | |
| 2021 | 402387 | 443044 | 632429 | 809406 |
| | | | | |
| 2031 | 652929 | 756783 | 1502221 | 1549115 |
| | | | | |
Due to induced nature of development the trend based projection methods are not expected to give true picture. Therefore induced development based on industrial activities has been made basis for future population estimation. However, comparative analysis of projected population using different methods reveals that linear graphical method puts the figure comparatively on higher side close to labour force participation method based on assumed local dynamics and future development perspectives. Hence the size of the city is estimated to be 15 lakh by 2031 in the greater bhiwadi master plan.
URBANISED AREA 2009
Out of the total notified area, 3533 Ha (17%) was urbanized till 2009 which is distributed in the form of three distinct clusters. It mainly includes Bhiwadi Industrial Area, Bhiwadi extension, Chaupanki Industrial Area, Pathredi Industrial Area, Khushkhera Industrial Area, Topookara Industrial Area and Tapookara village.
URBANISABLE AREA 2031
Size of the urbanisable area has been estimated based on envisaged induced development and consequent land requirement to accommodate estimated population by 2031. Estimated population for 2031 is 15 lakhs. Thus to accommodate 15 lakh population land required for various uses and size of urbanisable area for greater bhiwadi master plan 2031 has been presented in Table.
Land required for 2031:
Land Use
Area
Percent
Ha
%
Residential
4900
22.56
Mixed Use
1650
7.6
Commercial
590
2.7
Industrial
5400
24.9
Public‐Semi‐Public
850
3.9
Utilities
300
1.4
Recreational
980
4.5
Transportation
2900
13.3
Special Uses (Corporate Park, , TEG, PF, NCZ, TOD)
2000
9.2
Water bodies
350
1.6
Abadi Area
1800
8.3
Total Urbanisable Area
21720
100
Urbanisable area required is estimated to be 21720 ha.
Land Use Plan
THE PLAN STRUCTURE
Bhiwadi has been planned on gridiron pattern. Major roads have been planned vertically in north‐south direction. While few major roads are running in east‐west direction perpendicular to north‐south roads forming a grid and dividing the area into sectors. The town is planned on the concept of self‐contained integrated township.
The city centre and major public and semi public uses are located so as to run linearly in a north‐south direction more or less centrally. The south and south‐eastern parts of Greater Bhiwadi Complex are relatively environmentally sensitive. Therefore, these areas have been put to soft usage like Institutional, Regional Park and Sport Complex to keep it green to enhance the environmental capacity for conservation.
The expansion of industries is expected in a big way for which adequate land has been kept reserved contiguous to the existing industrial areas to get benefit of the economy of scale and optimization of industrial infrastructure. In view of the potential on south‐western part due to proximity to NH‐8 and planned RIICO road link from Kasaula to Khushkhera, corporate park has been located on this part of city.
Residential zoning along arterial has a tendency to be most vulnerable for unauthorized imposition of commercial use despite all enforcement measures by local authorities. To optimize the use of more valuable land strips abutting such arterial, as also to impart organic character to the urban development process, the concept of `Mixed Use Zoning' has been advocated along Alwar Road.
DESIGN POPULATION
Greater Bhiwadi Master Plan 2031 has been prepared for a design population of 15 lakh. The Notified Area considered for Master Plan covers 99 notified villages including Bhiwadi Census Town. All such villages in Master Plan have been termed as abadi areas.
LAND USE DISTRIBUTION
The proposed land use allocation in the Greater Bhiwadi Master Plan 2031 follows a distinct hierarchical order. The total area to be developed has been divided into sectors and facilities have been distributed as per the norms established after careful study of UDPFI Guidelines and Master Plans for Noida and Greater Noida, as these two cities are being established under the U.P. Industrial Development Act for the promotion of industries, and having comparable characteristics with Greater Bhiwadi.
Proposed Land use Distribution in Greater Bhiwadi
Land Use
Area
Percent
Ha
%
Residential
4822.12
22.4
Mixed Use
1657.26
7.7
Commercial
589.35
2.7
Industrial
5355.25
24.9
Public‐Semi‐Public
849.33
4.0
Public Utilities
302.45
1.4
Recreational
973.16
4.5
Transportation
2837.32
13.2
Special Uses (Corporate Park, , TEG, PF, NCA
1987.2
9.3
and TOD)
Abadi Area (including abadi development
1767.63
8.2
and redevelopment)
Water bodies
341.79
1.6
Urbanisable Area
21482.83
100
Peripheral Control Belt
1374.98
5.5
Ecological Conservation Area
2250.13
8.96
Notified Area
25107.94
Residential and Mixed Use
The residential use area in the greater bhiwadi master plan 2031 is planned in the form of sectors with an average size of 60 ha. A total of about 120 residential sectors have been planned. Besides, 45 sectors are kept under high density mixed use where along with residential, commercial and institutional use shall also be permitted both vertically and horizontally as per the requirements and proposals of landowners and Urban Local Body.
Provision has been made to accommodate 15 lakh population by the year 2031. Out of total 120 residential sectors, 6 are of low density, 98 are of medium density and 12 are of high density. The high density sectors include 4 residential sectors exclusively for affordable housing.
In each sector community facilities in the form of schools, dispensaries, shopping centres, open spaces, parks and playgrounds have been provided in a hierarchic manner. Additionally, provision has been made for locating facilities such as community hall, baarat ghar and others within residential sectors as per the requirement of population.
However, only city level facilities have been shown on the Greater Bhiwadi Master Plan 2031 – Land Use Map and community level facilities have been recommended as per planning norms which shall be provided while detailing the sector layouts.
Commercial
City level commercial centres have been provided in the form of city centre, sub‐city centre and community shopping centre. In addition, retail business and general commercial areas have been planned at various locations within the existing city limits as well as in future development areas. Also local shopping centres will be provided in each of the residential sectors.
Considering the tendency of retail commercial use to concentrate along major arterials linear retail commercial areas have been located along city arterials and other important major roads in the form of strips. In addition to above, commercial activities shall also be permitted in high density mixed use also both vertically and horizontally as per the requirements and proposals of landowners and Urban Local Body.
Wholesale market and mandis have been proposed inside the integrated freight complex (IFC) located towards west of the city well connected with main arterials thereby with regional network. Appropriate area has been earmarked for warehousing and godown inside IFC. A Trade and Exhibition Ground has been proposed to boost the local economy of the proposed alternative economic zone i.e. Corporate Park and also for cultural activities.
In addition to above commercial areas, few specialized markets have also been planned in the greater bhiwadi master plan 2031. Proposed 'Specialised Market' shall have specialized commodity based markets like automobile market, timber market, building material market, electronics and electrical goods market.
Industrial Area and Corporate Park
Presently about 2650 ha of land is under industrial use and by the year 2031 a total area of 5355 ha (about 2705 ha additional) will be developed as industrial zone. Large industrial areas have been planned at two locations. One known as Bhiwadi–Kahrani‐ Chaupanki Industrial Area in the northeast and the other known as Khushkhera‐ Tapookara Industrial Area in the southwest.
These two Industrial Areas have been planned in the grater bhiwadi master plan 2031, taking into consideration the existing development and the future requirements. The industries at two locations provide sufficient spread of industrial work centres in the town with a view to reduce commuting distances.
Both the industrial complexes have been supplemented with residential sectors to provide residential accommodations to industrial workers. In addition certain pockets have been proposed to be reserved for EWS, LIG and MIG category of housing as "Affordable Housing".
As an alternative economic zone, a modern 'Corporate Park' has been proposed in view of the immense potential for non‐manufacturing economic development. Therefore, only non‐manufacturing activities like corporate offices, IT parks, bio‐tech parks, R & D Centres, trade and exhibition ground, five star hotels etc. shall be developed in this zone.
Proposed corporate park with matching facilities like exhibition ground, multi‐modal transit station (MMTS), golf course and amusement park shall be developed as an independent high‐end city.
Recreational Zone
While planning recreational areas care has been taken that recreational areas are distributed in all parts of the city. Natural features such as hills, forests, water bodies and others have been a consideration while locating recreational areas.
Major recreational zones have been proposed along the outer peripheral road in the south and south‐west. A Golf course with Amusement Park has been proposed on the bank of Sahibi River. Among other city level organised open spaces earmarked for recreational uses are the Sports Complex and Regional Park. Besides, there are adequate numbers of parks and green spaces distributed in the city to create green landscape.
A large Fairground has been proposed to accommodate gatherings on Mohan Baba Temple. The fairground may be used for other cultural activities and during the pilgrimage the same may be exclusively used for the pilgrims.
Public and Semi Public Use
Extensive zoning for major institutional uses, public semi‐public areas have been proposed in greater bhiwadi master plan 2031. A large institutional area has been provided adjacent to the green areas in the southeastern part of the city. This institutional area will accommodate institutes of higher learning like university, technical colleges and other specialized research institutes.
Various Public Semi‐public facilities like health, education, post & telegraph, fire service, police station, socio‐cultural facilities and other community facilities (OCF) have been strategically distributed all over the city to serve the communities.
Besides, adequate area has been reserved for public semi‐public offices near Corporate Park. In addition to above, institutional use will also be permitted in high density mixed use both vertically and horizontally as per the requirements and proposals of landowners and Urban Local Body. 
Transportation
Keeping in view the projected population size of Greater Bhiwadi Complex, existing road network, MRTS (Mass Rapid Transit System) and RRTS (Rapid Regional Transport System) of NCR, intra and inter‐city movements, a number of arterial roads have been proposed besides outer peripheral road.
The Road Hierarchy of Greater Bhiwadi Complex has been proposed in consideration of regional and city level connectivity for both passenger and goods movements expected after expansion of industrial base. The hierarchy proposed is as under:
Outer Peripheral Road (90 m ROW)
NH‐71B (60 m ROW)
SH‐25 (60 m ROW)
Arterial Road (60 m ROW) and
Sub‐Arterial Road (45 m ROW)
Further lower hierarchy of roads will form part of sector layout details.
The range of facilities proposed to support city and regional level transport network includes:
Bus Terminals
Besides an Inter‐state Bus Terminal on the 60 m road connecting NH‐8and NH‐71B further linking the main spine i.e. Alwar Road. In view of the future public transport needs, two MMTS (Multimodal Transit Station) have been proposed one in the Corporate Park zone and other near junction of outer peripheral road and Alwar road on south of Tapookara.
Integrated Freight Complex (IFC)
An Integrated Freight Complex has been proposed in the western side north of Khushkhera Industrial Area, which will have connectivity of regional as well as city level arterials. The IFC will have all integrated facilities inside and is envisaged to cater to the need of entire Greater Bhiwadi Complex. The freight complex will also have large area for idle parking to meet the need of Truck Terminal for western industrial belt.
Transport Nagar
Besides IFC, a separate Transport Nagar has been provided on eastern limit of city between outer peripheral road and arterial road along DFC both connecting NH‐8and with NH‐71B near Karendi. It will provide facilities for idle parking of trucks, repair workshops, offices of booking and forwarding agencies, petrol filling and service station and related facilities.
Bus Depot
A large bus depot has been provided along outer peripheral road at the junction with Nuh Road to cater to the need of bus based MRTS in future.
Helipad
The stadium near UIT Sector 3A will have incidental use as a helipad to facilitate VIPs and emergency lifting
Railway Line
As proposed in the Bhiwadi Master Plan 2011, a Railway Line alignment also has been integrated in the proposed Master Plan. The engineering alignment of the railway line is yet to be decided by the Railway Board. This rail link is expected to strengthen the regional connectivity by linking Greater Bhiwadi with DFC station at Rewari.
The Regional Rapid Transit System (RRTS)
National Capital Region Planning Board (NCRPB) after conducting a study on "Integrated Transportation Plan" has prepared a proposal to improve transportation and connectivity in whole of the Area. Thus Regional Rapid Transit System (RRTS) has been proposed to connect the Delhi with cities in NCR through high speed rail link/commuters trains. The project will cover four states Delhi, Haryana, Rajasthan and Uttar Pradesh.
As proposed by the NCR Planning Board, RRTS alignment has also been integrated in the Greater Bhiwadi Master Plan 2031 which will further strengthen the regional connectivity with the national capital. Provision has been kept for RRTS station at Matila village along with 22 ha. land reserved for transit oriented development beside the station.
Ref: UIT Bhiwadi