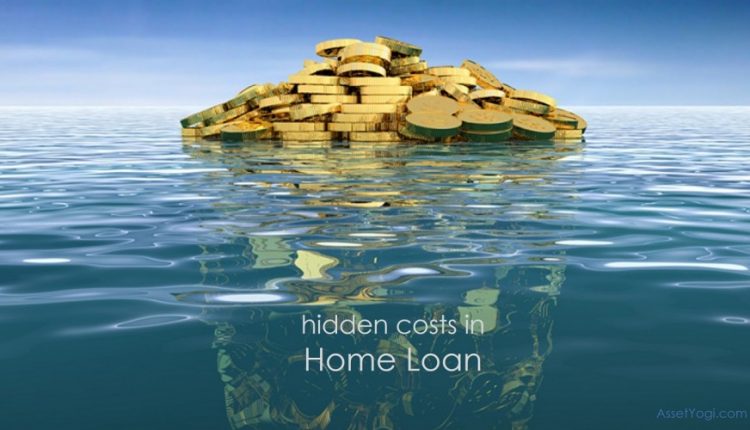 17 Hidden Charges in Home Loan You Should Know
When you take a home loan, the bank will not tell you about many hidden charges. The first charge that you come across while applying for a home loan is processing fee but there are many hidden charges in home loan that you would come to know only later. In this article, we have covered 17 home loan hidden charges that you may come across at various stages.
Hidden Charges in Home Loan
1. Processing Fee
Processing Fee covers the marketing & sales costs and administrative expenses for internal processing of the loan at bank. Generally, processing fee is charged @ 0.5%-1% of the loan amount plus service tax and surcharge.
2. Administrative Charges
Once, the bank gets a loan application, it has to internally process the loan for approval. Administrative charges cover the expenses for this internal approval process. Normally, administrative charges are part of the processing fee, which is recovered from the customer. But sometimes a bank may charge administrative expenses separately. A bank may compromise on processing fee but will recover its administrative expenses.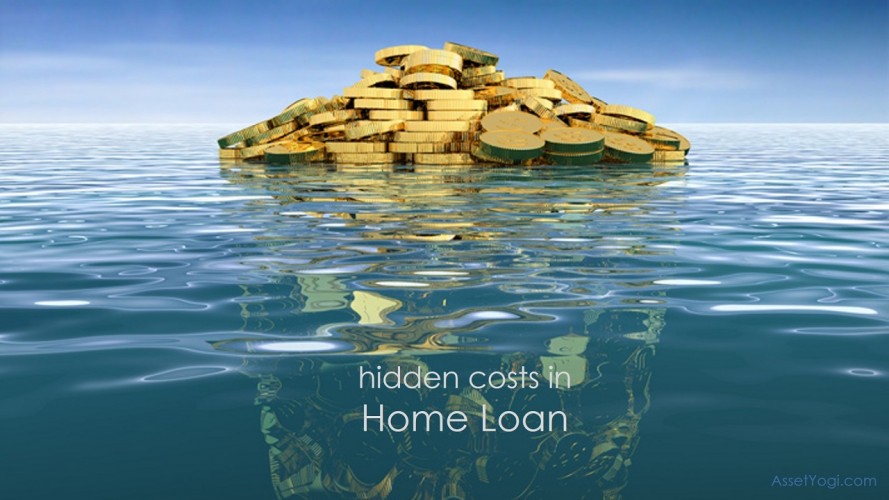 3. Pre Payment Charges
As per latest RBI guidelines, pre payment penalty is waived off for home loans with floating rate of interest. However, most banks will charge 2-4% pre payment penalty on home loans with fixed rate of interest.
4. Late payment charges
If you delay your EMI payment, late payment charges will be levied by the bank @ 2% per month on the delayed time period with a minimum of Rs. 500 penalty.
5. Conversion Charges
It is a known fact that banks offer their best interest rates to new customers. Chances are that if you had taken a home loan when interest rates were relatively high, you would be paying a higher interest rate when interest rates are low. Now, if you want to convert your old floating interest rate to new floating rate or old fixed rate to new fixed rate, you will have to pay conversion charges @ 0.5-1% of outstanding loan amount. Similarly, you have to pay conversion charges of 0.5-1%, if you want to convert floating interest rate to fixed rate or vice versa.
6. MODT Charges
Memorandum of Deposit of Title Deed (MODT) is an affidavit signed by the borrower that he has deposited the title deed of the property with the bank at his own will, in order to raise home loan from the bank. Stamp duty has to be paid to register this document and it varies from 0.1% to 0.2% of loan amount, depending on the state in which the affidavit is registered.
7. Document Retrieval Charges
Banks store all important property documents like Sale Deed and Sale Agreements at their central repository. At the time of closure/ pre-closure, your bank will get these documents couriered from their central repository back to the branch. The bank will recover these charges by way of document retrieval charges @ Rs. 250-500.
8. Legal Fee
Banks hire lawyers for title verification of properties against which they lend money. Some banks charge this legal fee separately from the customer. If the bank has already approved a project, you will not have to pay any such fee.
9. Valuation & Inspection Fee
Before sanctioning the loan, the bank conducts an independent valuation of property and physically inspects the property. The costs incurred in valuation and inspection are recovered from the customers. Again for pre-approved projects, you will not have to pay this fee.
10. Documentation Charges
Generally, part of processing fee, documentation charges are sometimes recovered separately by banks to cover documentation costs of Home Loan Agreement, MODT, Indexing etc.
11. Cheque Bounce Charges
If any of your repayment or security cheque bounces, you will be charged a penalty of Rs. 200-300 per cheque bounced.
12. Changing Loan Tenure
If you want to change your loan tenure to decrease or increase your EMI, you may be charged a fee for that.
13. Repayment Mode Swap Charges
If you want to change your repayment mode for eg. from cheque payment to electronic (ECS), you will have to pay swap charges of Rs. 250-500.
14. Statement of Account
You may require loan account statement for tax or other purposes. Some banks charge Rs. 100-250 per statement if you want a signed statement of loan account. However, account statements can be accessed for free from the online account.
15. Charges for Amortization Schedule
Generally, when your loan is approved, your bank will provide you with an amortization schedule. If you want an amortization schedule anytime during loan servicing period, you will be required to pay a fee of Rs. 100-300.
16. Copy of Original Documents
Once, you submit your original property papers, bank may charge to provide copies of your documents any time later. Ideally, you should keep scanned copy and a couple of printed copies of your documents before submitting your documents to the bank.
17. List of Documents
You may require the list of documents submitted with the bank while selling the property, transferring the home loan to another bank or for any other purpose. The bank may charge a nominal fee for providing such list.
Home loan hidden charges mentioned in this article are indicative and charges may vary from bank to bank. We hope that you would find this information useful and will be better prepared while taking a home loan next time.
Over to You
We need your love! Like and Share this article on "17 Hidden Charges in Home Loan You Should Know", if you found it useful.
Have something to say or ask? Please comment below.