Navi Mumbai Development Plan – Map, Summary & Free Download!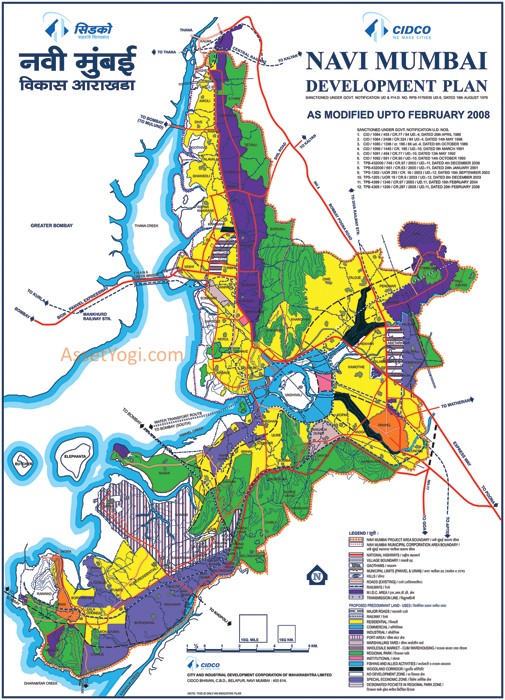 Navi Mumbai Development Plan has been prepared by CIDCO to provide vision & regulations for development and building activity in the Navi Mumbai Region of Maharashtra. About 344 sqkms of land is allocated under the Navi Mumbai Project Area.
From here, you can download Navi Mumbai Development Plan Map and development plan maps of all districts of Navi Mumbai. Check out Summary of Navi Mumbai Development Plan below. To share your opinions and suggestions, please use the comments section at the end.
Downloads
Nodal Development Plans
Summary – Navi Mumbai Development Plan
Introduction
The Navi Mumbai project began in 1971 with the formation of City and Industrial Development Corporation (CIDCO). CIDCO was set up by Government of Maharashtra (GoM) as public limited company under Indian Companies Act and is wholly owned by the GoM.
In March 1971, CIDCO was designated as the New Town Development Authority (NTDA) for Navi Mumbai. The seed capital given to CIDCO was Rs. 3.95 cr. and it was expected that it would use land as resource to finance the project.
The Navi Mumbai project area spread over approx. 343.7 sq.kms, contained 95 villages of Thane and Raigad Districts. The area covered under the project had about 17,000 hectares of private land and an equal area of forest and government land. Most of the land was marshy and barren. The existing population in the project area was 1,17,000.
To act as counter-magnet to Mumbai, the new city would have to provide the new inhabitants with all facilities, amenities, jobs, etc that shall equal if not better Greater Mumbai. The growth of Navi Mumbai was expected to decongest Mumbai in respect of both population and activities by shifting of industrial, market and office activities in a way that the new city will be sustainable physically, economically and environmentally.
Economy
Most of the software companies in Maharashtra have their offices in Navi Mumbai. The government of Maharashtra has set up software parks to cater to the growing demand. Many large institutions have their offices here. Since 2005, The Reliance Group have had a major presence with Dhirubhai Ambani Knowledge City in Kopar Khairane and Mahape.
The New Millennium City near Mahape forms a major part of the Knowledge Corridor that spans Mumbai and Pune. The International Infotech Park at Vashi and Belapur railway station complex houses many international IT companies.
As a part of long-term planning, major commodity markets have begun moving from the heart of Mumbai city to Navi Mumbai. Kalamboli (a node in Navi Mumbai) is home to a major steel market. Vashi has the fresh fruits and vegetables market called the Agriculture Produce Market Complex (APMC).
One of the important business landmarks is the shipping port of Jawaharlal Nehru Port in the Nhava Sheva – Dronagiri nodes. The major business hubs in the city are CBD Belapur, Vashi, Nerul, and Mahape.
The Navi Mumbai Special Economic Zone (SEZ) located in the nodes of Dronagiri and Kalamboli are planned to provide commercial growth and employment to the city. Positioned en route the proposed Navi Mumbai Airport, this megaproject has attracted investments of close to 40,000 crores. Honda SEIL's headquarters is located in Nerul MIDC. Airoli has many leading companies in IT sector which are situated just opposite of Airoli railway station.
Population
As per CIDCO Navi Mumbai Development Plan, Navi Mumbai consists of 95 villages and two Municipal Councils of Panvel and Uran. For the purpose of presenting the total population of Navi Mumbai, we have to take into account
1. nodal population
2. population in two Municipal Councils of Panvel & Uran,
3. population in 95 villages.
Now Navi Mumbai Municipal Corporation has been formed in 1991, comprising all nodes developed by CIDCO from Airoli to CBD Belapur, as well as all villages falling within Thane District. The following table reveals that in every decade, the population has almost doubled. That is 100% increase in the population of Navi Mumbai.
Trend of Population
Population in lakhs
| | | | | |
| --- | --- | --- | --- | --- |
| Census group | 1971 | 1981 | 1991 | 2001 |
| Gr. Mumbai | 59.71 | 82.43 | 99.26 | 119.14 |
| Thane | 1.71 | 4.74 | 8.04 | 12.62 |
| Kalyan – Dombivli | 1.51 | 5.78 | 8.20 | 11.93 |
| Navi Mumbai | 1.56 | 2.50 | 5.353 | 11.0 |
Growth Table
Increase in Kalyan is due to change of census group
From the growth rate table, the impact of Navi Mumbai City shows the reduction in the growth rate of Gr. Mumbai and its suburbs. In comparison with last decade, the growth rate is constant or slightly declining as compared to the earlier decades. The growth rate of Greater Mumbai during 1971-1981 was 3.81, which was reduced to 2.04 in 1981-1991, and 2.0 during the decade 1991-2001.
Migration pattern of population of Navi Mumbai 
The migration pattern of the population of Navi Mumbai is shown in the following table based on the Socio Economic Surveys conducted by CIDCO (1987, 1995, 2000, 2005)
| | | | | |
| --- | --- | --- | --- | --- |
| Last place of Residence | 1987-survey | 1995-survey | 2000-survey | 2005-survey |
| Island(%) | 21 | 12.48 | 11.0 | 30.0 |
| Western Suburbs (%) | 6 | 4.73 | 13.2 | 4.4 |
| Eastern Suburbs (%) | 21 | 19.42 | 18.2 | 5.7 |
| Thane-Kalyan(%) | 6 | 3.97 | 4.2 | 6.1 |
| Other MMR* (%) | 7 | 1.06 | 4 | 2.0 |
| Total (%) | 61 | 41.6 | 47.0 | 48.2 |
| | |
| --- | --- |
| Last place of Residence | 2010-survey |
| Island(%) | 34.6 |
| Suburbs (%) | 20.9 |
| other district of maharashtra (%) | 7.1 |
| Outside maharashtra (%) | 5.7 |
Mumbai Metropolitan Region
The above table presents that 30% of households shifted from Island city, 5% from western suburbs around 6% each from Eastern suburbs and Thane, 2% from other Metro Region. The survey report- 2005 also shows 9% from villages of Navi Mumbai, 7% from other district of Maharashtra state and 6% from other parts of the country, while 30% stay in Nodes of Navi Mumbai.
Salient Features of Navi Mumbai City
Spread over 344 sq. km. land, which includes a 150 km creek line.
14 well-planned nodes, strung along mass transport corridors, effectively serving civic needs (Airoli, Ghansoli, Kopar Khairane, Vashi, Sanpada, Nerul, CBD Belapur, Kharghar, Kamothe, Kalamboli, New Panvel, Ulwe, Dronagiri and Pushpak).
45% land reserved for green zones and open-to-sky activities.
World-class infrastructure with excellent healthcare facilities in every node.
Quality housing for every stratum of society.
World-class education institutes in every node.
Reasonably priced commercial and residential real estate.
Direct access to any part of the country through road and rail.
Quick access to Central Business District located in the heart of the city.
In close proximity to the most modern seaport – Jawaharlal Nehru Port.
International airport and Special Economic Zone in the offing.
Only Indian city to have commercial complex above railway stations.
Asia's biggest wholesale market, APMC, is located here.
CIDCO Navi Mumbai Development Plan
After appointment as the New Town Development Authority for Navi Mumbai, CIDCO prepared the Draft Development Plan for Navi Mumbai which was approved by the State Government in August 1979 and came into force with effect from March 1980.
The sanctioned Navi Mumbai Development Plan envisaged broad land use Zones such as Residential, Commercial, Institutional, Industrial, Regional Park, No Development, etc. The development and the uses to be permitted within these zones is governed by the General Development Control Regulation (GDCRs), sanctioned by the State Government.
Within the boundaries of the 343.70 sqkm project area, the Panvel and Uran towns, MIDC area, MESB area, Defence lands and existing gaothans together added to 50 sqkm. of area. Of the balance 294 sqkm. area, private land was 166 sqkm (57%), saltpan land was 27 sqkm. (9%) and Govt. Land was 101 sqkms. (34%).
The break-up of land-use distribution of the 343.70 sqkm area as per navi mumbai development plan is as under:
| | |
| --- | --- |
| Particular | Area (sq.km) |
| Areas for MIDC, Gaothan, Municipal Councils, etc | 50.00 |
| Areas for JNPT, NDZ, RPZ, DP Res. for Port, Rlys, Airport | 154.21 |
| Gross Developable Land | 139.49 |
| Total Navi Mumbai Project Area | 343.70 |
Ref: CIDCO