Neemrana Master Plan 2041, 2031 – Map, Summary & Free Download!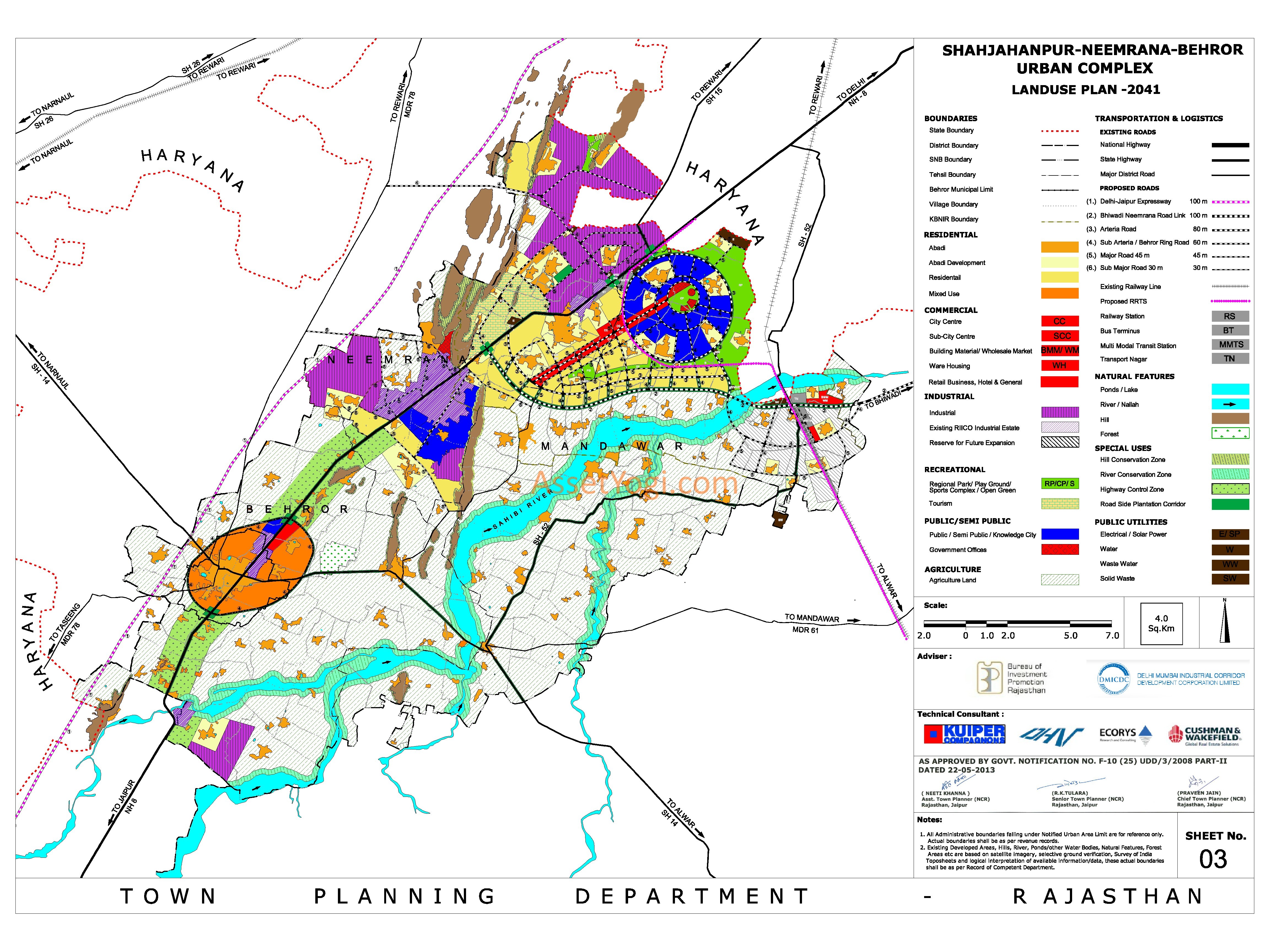 Neemrana Master Plan 2041 is part of the Shahjahanpur-Neemrana-Behror Urban Complex Master Plan 2041 that provides vision & regulations for development and building activity in the Shahjahanpur-Neemrana-Behror (SNB) Region of Rajasthan.
SNB region is further part of Khushkhera-Bhiwadi-Neemrana Investment Region (KBNIR).  KBNIR envisages a population of 18 lakhs  by 2041. Accordingly, 550 sqkms of land area is allocated under the proposed land use by 2041 in Shahjahanpur-Neemrana-Behror Urban Complex.
You can download Neemrana Master Plan 2041 Map and full report from here. Neemrana Master Plan 2031 Map is also available for download. You can go through the Summary of Shahjahanpur-Neemrana-Behror Urban Complex Master Plan 2041 below, in case you don't want to go through the complete report. To share your opinions and suggestions, please use the comments section at the end.
Downloads
Highlights – Shahjahanpur-Neemrana-Behror Urban Complex (Neemrana Master Plan 2041)
Introduction
The National Capital Region (NCR) in India is the designation for the conurbation or metropolitan area which encompasses the entire National Capital Territory of Delhi, which includes New Delhi, as well as urban areas surrounding it in neighboring states of Haryana, Uttar Pradesh and Rajasthan. NCR is India's largest and the world's second largest agglomeration with a population of 25,700,000.
Delhi is growing at a rapid pace because of increasing migration. The unprecedented growth of population especially during the post-independence years and the consequent haphazard development had been putting severe pressure on the infrastructure of NCT Delhi. Therefore, it was suggested through various planning exercises beginning from 1956, that serious consideration should be given for a planned decentralization to outer areas and even outside the Delhi Region. Hence areas from adjoining states were included to form the National Capital Region. 
Genesis of NCR
The Interim General Plan for Greater Delhi was prepared in 1956 and then the first Master Plan of Delhi prepared in 1962 suggested that serious considerations should be given for the planned decentralisation of large scale economic activities from Delhi and the development of towns around Delhi.
The plan envisaged deflecting some of the population into the ring towns so that the population of Delhi can be kept at a manageable limit in the neighborhood of 46 Lacs for urban Delhi and about 50 lakhs for the union Territory of Delhi.
In pursuance of the basic policy statement, MPD 62, while finalizing the land use for Delhi, also determined the land requirements for the future growth of the ring towns –Ghaziabad, Loni, Faridabad-Ballabhgarh, Gurgaon, Bahadurgarh and Narela, to provide for not only their natural growth, but also to accommodate the expected 4 Lacs population to each of the ring towns in 1981.
The plan envisaged comprises an area of 33,578 square kilometers (includes the remaining five Tehsils of Alwar, covering the states of Haryana, Rajasthan, Uttar Pradesh and the National Capital Territory of Delhi. The State-wise area covered under National Capital Region is as under:
Area of NCR
The area of the NCR is as follows-
NCT Delhi: 1,483 sq Km
Haryana: 13,413 sq Km
Uttar Pradesh: 10,853 sq Km
Rajasthan: 7,829 sq Km
The Regional Plan (NCR Plan 2021) envisages restricting the growth of Delhi by dispersing activities to areas outside it, allowing only a moderate growth of the Central NCR (earlier DMA) which surrounds Delhi and inducing the development of the rest of the region by accelerating the growth of the following priority towns and counter magnets (depending on the population and potential for growth and investments) in the sub regions of Haryana, Rajasthan and Uttar Pradesh.
Priority Towns
Haryana – Panipat, Rohtak, Palwal, Rewari and Dharuhera
Rajasthan – Bhiwadi and Alwar (Shahjahanpur, Neemrana and Behror part of this region)
Uttar Pradesh – Meerut, Hapur, Bulandshahar and Khurja
A radial pattern of growth has been observed over the years with Delhi as the nucleus spreading to adjoining states of Haryana, Uttar Pradesh and Rajasthan. First stage of development encompassed locations within NCR towns and now surrounding cities have become investment destinations.
Delhi-Mumbai Industrial Corridor
Government of India has announced the establishment of Dedicated Freight Corridor between Delhi and Mumbai, covering an overall length of 1,483 km and passing through the States of U.P, NCR of Delhi, Haryana, Rajasthan, Gujarat and Maharashtra, with end terminals at Dadri in the National Capital Region of Delhi and Jawaharlal Nehru Port near Mumbai.
The Delhi- Mumbai leg of the Golden Quadrilateral National Highway also runs almost parallel to the Freight Corridor. A band of 150 km (Influence region) has been chosen on both the sides of the Freight corridor to be developed as the Delhi-Mumbai Industrial Corridor.
The vision for DMIC is to create strong economic base in this band with globally competitive environment and state-of-the-art infrastructure to activate local commerce, enhance foreign investments and attain sustainable development. In addition to the influence region, DMIC would also include development of requisite feeder rail/road connectivity to hinterland/markets and select ports along the western coast.
39% of total area of DMIC falls in Rajasthan. Khushkhera-Bhiwadi-Neemrana Investment Region (KBNIR) has been earmarked as a major investment region under DMIC. Shahjahanpur-Neemrana-Behror Urban Complex Master Plan 2041 (Neemrana Master Plan 2041) has been prepared in line with KBNIR master plan.
Location & Connectivity
Rajasthan is the largest state in the Republic of India and has an area of 342,239 sq km. It is bound on the west and northwest by Pakistan, on the north and northeast by the states of Punjab, Haryana and Uttar Pradesh, on the east and southeast by Uttar Pradesh and Madhya Pradesh, and on the southwest by Gujarat.
Rajasthan is connected by many national highways. Most important being NH 8, which is India's first 6–8 lane highway. Rajasthan also has an inter-city surface transport system both in terms of railways and bus network. All chief cities are connected by air, rail and road.
The Shahjahanpur-Neemrana-Behror (SNB) Urban Complex in Rajasthan Sub-Region of the National Capital Region (NCR) is envisaged by the Government of Rajasthan for establishing a world-class city with public-private partnership keeping following benefits in mind.
Advantage of its location in NCR and with the view to attract the economic and investment opportunities for the developers of Rajashatn, Delhi and Haryana and at the same time to give benefits to the developers of the state.
To execute an International level development in response to fast changing regional and sub-regional global economic competitiveness through creation of environmental friendly –green field development, state of art infrastructure and a composite one location development for private investment in modern day specialized fields and competitive economic activities.
To fulfill the development strategies envisaged for the development in NCR Regional Plan –2021 i.e. development of a regional centre close to Delhi in each sub-regions of NCR.
Accordingly, Neemrana master plan 2041 is developed as part of SNB urban complex.
Connectivity of SNB By Air
There are four main airports at Rajasthan- Jaipur airport, Udaipur airport, Jodhpur airport and Kota airport. These airports connect Rajasthan with the major cities of India . In addition, a greenfield airport has been approved for SNB region having proposed location at Neemrana.
Connectivity By Rail
Rajasthan is connected with the main cities of India by rail. Jaipur, Kota, Bikaner, Ajmer, Udaipur and Jodhpur are the principal railway stations in Rajasthan. Kota City is the only Electrified Section served by three Rajdhani Expresses and trains to all cities of India. Proposal for development of regional Rapid Rail Transit System (RRTS) linkage between Delhi, Manesar and Neemrana.
Connectivity By Road
Rajasthan is well connected to the main cities of the country including Delhi, Ahmedabad and Indore by State and National Highways and served by Rajasthan State Road Transport Corporation (RSRTC) and Private operators.
Shahjahanpur-Neemrana-Behror (SNB) Urban Complex
The Shahjahanpur-Neemrana-Behror (SNB) urban complex lies in the north-western part of Rajasthan sub-region of NCR bifurcated by NH – 8 in the north-south length of approximately 33 kms and 18 kms in width. Notified SNB urban complex comprises of 137 villages with population of approx. 2, 26,673 persons as per census 2001. The SNB urban complex has been identified as one of the regional centers in the Regional Plan for NCR for the target year 2021 (RP-2021).
The RP-2021 has proposed to develop the said urban complex as a center for advanced industrial and other economic activities and envisaged to have a concentration of higher order service functions, which are expected to exert an increasingly dynamic influence on attraction of investment and creation of conducive work place relationship.
The Shahjahanpur-Neemrana-Behror (SNB) Urban Complex (including Khushkhera-Bhiwadi-Neemrana Investment Region (KBNIR) and  Global City) is planned for 1.82 million population by the year 2041. The whole complex is proposed to be built in four phases and shall constitute of ten cluster cities besides residential based on their major use pattern.
This population is proposed to be accommodated in the total Shahjahanpur-Neemrana-Behror Complex Area. Following table presents decadal population growth trends and projected population of the SNB region including the Global City.
Population trend & growth rate of SNB Region including Global City
| | | |
| --- | --- | --- |
| Year | Population  | % Rate of Growth |
|   | (in lacs) | (%) |
| 1971 | 1.19 | – |
| 1981 | 1.49 | 25.21 |
| 1991 | 1.86 | 24.83 |
| 2001 | 2.32 | 24.73 |
| 2011 | 3.00* | 29.31 |
| 2041 | 18.20* | |
*Projected Population
As per SNB Master Plan 2041, projected population for proposed Global City shall be 1.38 million out of the total population of 1.82 million. Projected population for rest of the region, except KBNIR, shall be 0.44 million which is projected at annual compounded growth rates of 2.30% (2001-2011), 2.35% (2011-21), 2.24% (2021-31) and 2.5% (2031-41). Following table presents the proposed population for SNB region till year 2041.
Regional Population break-up of SNB Region (including Global City)
City/ Region
Population
(in lacs)
KBNIR
13.8
Behror
1.1
Remaining SNB Region
3.3
Total
18.2
Proposed Land Use
SNB Urban Complex is an important development center which has been proposed to be established as a new township under Delhi-Mumbai Industrial Corridor. SNB urban development area has been further divided into:
Behror Town Plan Area
KBNIR Plan Area
Neemrana-Behror-NH8 Plan Area
Rural Plan Area
A total area of 550.6 sq.km. has been demarcated for Shahjahanpur Neemrana Behror Urban Complex under SNB Master Plan 2041 (Neemrana Master Plan 2041). Out of this total area, urbanisable area under Behror Town Plan Area Is 20.78 sqkm., under KBNIR Plan Area is 123.41 sq.km. and under Neemrana-Behror-NH8 Plan Area is 83.64 sq.km.
Source: UIT, Bhiwadi