Sonipat Master Plan 2021 – Map, Summary & Free Download!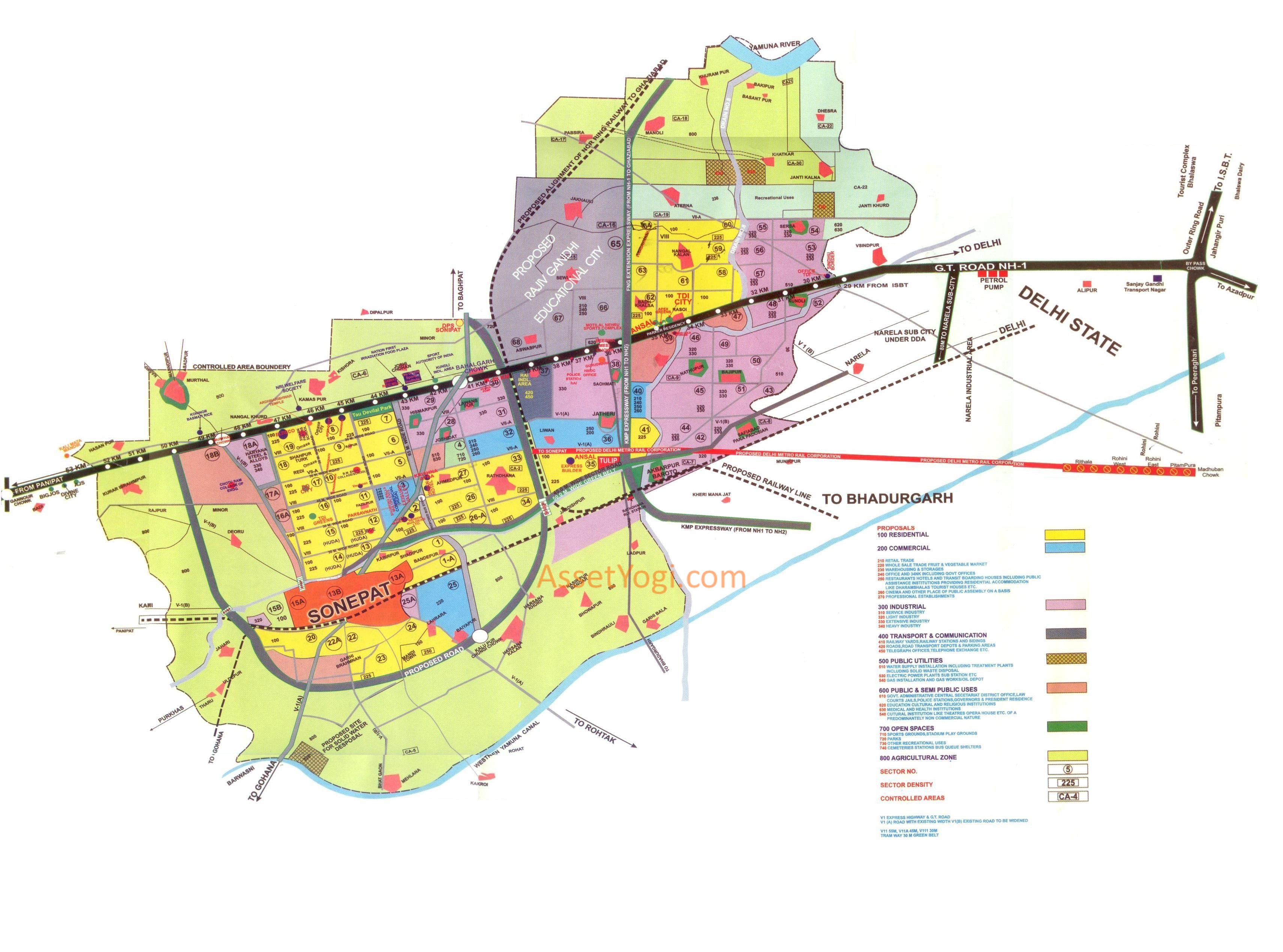 Sonipat Master Plan 2021 has been prepared to provide vision & regulations for development and building activity in the Sonipat-Kundli region of Haryana. It envisages a population of 10 lakhs by 2021 in Sonipat-Kundli region. Accordingly, 12,468 hectares of land is earmarked as urbanisable area under the proposed land use by 2021 in Sonipat Kundli master plan of 2021.
You can download the Master Plan 2021 map for Sonipat and the government notification from here. Check out the summary of Sonipat Master Plan 2021 below. You can share your opinions or suggestions in the comments section at the end.
Downloads
Summary – Sonipat Master Plan 2021
Introduction
Sonipat town came in the light as a district headquarter in 1972 comprising the tehsils of Sonipat, Gohana and Ganaur. It is linked with Delhi, Uttar Pradesh and Haryana with rail and road links. Sonipat town is located at a distance of 52 kms by road and 44 kms by rail from Delhi.
National Highway 1 lies 8 kms away in the east from the main town. The town is well linked with the National and State Capital by road and rail links. The town also has good connectivity with the interiors of the State as well as the neighboring state of Uttar Pradesh.
Population
The growth trend of the population in Sonipat town is shown in the table below:
| | | |
| --- | --- | --- |
| Year | Population |  Growth Rate |
| 1941 | 17,781 | – |
| 1951 | 30,189 | 69.78% |
| 1961 | 45,882 | 51.98% |
| 1971 | 62,393 | 35.99% |
| 1981 | 1,09,369 | 75.29% |
| 1991 | 1,43,922 | 31.59% |
| 2001 | 2,25,151 | 56.44% |
| 2011 | 3,57,990* | 59.00% |
| 2021 | 5,76,364* | 61.00% |
Note: * indicates the projected population
Sonipat had increased its population rapidly during the decade 1971-81 i.e. 75.29%. Perhaps this was due to elevation of Sonipat town into a District Heaquarter in the year 1972. Before this, Sonipat was a tehsil of one of the four tehsils of Rohtak.
A study of the demographic profile reveals that Sonipat town has maintained more or less consistent moderate growth rate. However, this moderate growth rate is likely to increase due to the provision of quality infrastructure.
National Capital Region Plan (NCR) Plan 2001 has recognized Kundli area to be developed as a Delhi Metropolitan Area (DMA) town. In view of NCR Planning Board's thrust on the development of DMA town and available development potential, Haryana Government has taken a conscious decision to develop an integrated complex, comprising of controlled areas declared around Sonipat town and Kundli.
The Final Development Plan 2021 for Sonipat-Kundli Multifunctional Urban complex (Sonipat Master Plan 2021) is prepared for a population of 10 lacs persons by 2021.
Land Use Proposals
The land use proposals of Sonipat Master Plan 2021 have been formulated in a pragmatic manner keeping in view the existing ground realities. The Sonipat Master Plan 2021 has been partly executed. These proposals have been retained accordingly with minor modifications.
The total urbanisable area for the Sonipat-Kundli Multifunctional Urban Complex has been worked out by assigning a town density of approximately 80 persons per hectare. This would require an urbanisable area of 12468 hectares.
Detailed descriptions and provisions of major land uses in the plan are as under:
| | | |
| --- | --- | --- |
| Land Use | Area (Ha) | % of Total Area |
| Residential | 4186 | 33.57 |
| Commercial | 1811 | 14.53 |
| Industrial | 2790 | 22.38 |
| Transport & Communication | 1257 | 10.08 |
| Public Utility | 301 | 2.41 |
| Public and Semi-Public Uses | 1058 | 8.49 |
| Green Belts and Open Spaces | 1065 | 8.54 |
| Total | 12468 | 100 |
Description of various Land Uses
Residential
The total area reserved for the residential purposes in the form of sectors in Sonipat Master Plan 2021 is 4186 hectares which is 33.57% of the total area of the complex. The main thrust of residential development is towards Shershah Suri Marg. There is an immense demand of a few residential sectors in Kundli area due to coming uo of a lot of industrial activities in that area.
The residential areas have been earmarked keeping in vies the place of work and other economic activities which are required to be developed on neighborhood pattern. All the services and utilities needed for day to day living shall be provided in the sector itself. Hence, each sector will have a local market or shopping centre, education, health, recreational facilities etc. located in close proximity of the residential houses.
In sector plan, provision for sites for basic amenities like electric substation, telecome etc. would be made. The city level facilities like college, cremation grounds, club, telephone exchange etc. would be accommodated in various sectors of the complex.
In first phase, the area between existing town and National Highway-1 has been proposed for development in Sonipat town and residential sectors on National Highway-1 in Kundli area have been proposed for development.
Commercial
The land earmarked for commercial purposes in Sonipat Master Plan 2021 is 1811 hectares which is 14.53% of the total area of the complex. Sector-3 is proposed to serve as one of the commercial centres of the Multifunctional Urban Complex for Sonipat area. Sector-66 adjoining proposed Faridabad-Noida-Ghaziabad Express Highway has been proposed for Kundli area.
The commercial sub-centers have been proposed keeping in view of their utility and accessibility. Natural existing features such as drain, major road system etc.have also influenced their locations. Care has been taken to locate these commercial centres on major road network and along Express Highways and National Highway.
Industrial
Keeping in mind the over spill of industrial activities from Delhi, 2790 hectares of land has been earmarked for industrial purposes which is 22.38% of the total area of the complex. The allocation of land for this purpose has taken into consideration the existing industrial infrastructure apart from the growth potential of industrial activities. Setors 42 and 43 have been proposed adjoining the railway line for light industrial units.
Other industrial sectors have been reserved for industrial units ranging from light to large and medium industries. In first phase, the thrust for industrial development has been kept towards National Capital Territory Delhi and along National Highway-1. Industrial Sector 38 is especially developed by Haryana State Development Corporation to attract attention of industrialists who want to shift their industries from Delhi.
Transportation
Roads
Shershah Suri marg and railway line have been retained in the Sonipat Master Plan 2021 as guiding factors with the allocation of land uses and other road/ railway network. The road network has been planned in a hierarchical manner to facilitate easy movement to traffic and people. The width of this road network is designated as follows:
V-I             :    Proposed Express Highways and Grand Trunk Road
V-II            :    65 meters
V-II(a)        :    45 meters
V-III            :    30 meters
V-III(a)        :    Roads with existing width
Tramway    :    30 meters Green belt
The road network has been planned keeping in view the inter-city traffic as well as location of the town in its regional setting.
Keeping in view the proposals of National Capital Region Planning Board, express highways namely Eastern Peripheral Expressway (Faridabad-Noida-Ghaziabad Expressway) and Western Peripheral Expressway (Kundli-Manesar-Palwal Expressway) have been proposed to link the Delhi Metropolitan Area towns of National Capital.
A sizeable area adjoining the Haryana State Industrial Development Corporation sector-38 is proposed to be developed as a transport nagar and for bus stand.
RRTS
The National Capital Region Board has proposed to strengthen the regional transport system by connecting the priority towns and Delhi Metropolitan Area (DMA) towns through regional rapid transit system. The proposals have been adopted in the Sonipat Master Plan 2021 by envisaging Rapit Transit Corridors from Sonipat to Delhi and from Sonipat to Panipat along which electric trains (EMUs) could run at 10 to 15 minutes interval. This will help in reducing the pressure of commuters on road transportation along the National Highway-1.
Railway Line
A new railway line has been proposed to link the multifunctional complex with Ghaziabad and Bahadurgarh towns. This will serve the purpose of National Capital Region Ring Railway Network. A railway siding has been proposed for sector-37, proposed for transport nagar.
Apart from above, tramways with 30 meters width have been provided in the Master Plan for the introduction of rapid transit system and for strengthening of mass-transport system. These tramways will connect the Sonipat town with the Kundli township.
Ref: Town & Country Planning Department, Haryana