Though our career can take us places, all of us want to settle at some point in time. Then many people ask, which is the best city in India to live? Most surveys answer this question by simply telling that city X is best because of Y reason. However, every individual's needs are different. One person may hate the speed of a metropolitan city while other may just love it. So, here we present to you 13 most important factors that you must keep in mind before selecting your best city to live in India.
How to choose Best City in India to Live?
1. Career Opportunities
Career or Employment Opportunities vary from city to city and state to state. For instance, if you are an IT professional, you would find most job opportunities in Bangalore, Delhi-NCR, Hyderabad, Pune and Chennai while if you are a finance professional you would rather be targeting Mumbai or Gurgaon. Similarly, if you are a small businessman you would want to target a city where maximum trade in your industry happens. For eg., if you are a diamond trader, you should be heading to Surat. Chennai has many auto and ancillary industries. If you work in the Entertainment industry, Mumbai is the place for you.
Some jobs are neutral to location. For eg, if you work in education or banking, you can pretty much get a job anywhere. In that case, you can perhaps look at other factors to choose a city.
Income levels also vary from city to city. You would perhaps find highest paying jobs in Mumbai or Delhi-NCR where maximum corporate headquarters are located.
You must spend some time researching various career and job markets in different areas of the country. You can then analyze where the highest concentration of these jobs or business opportunities are located. Do your research before you move, and ideally find a job before you relocate to your best city in India.
2. Cost of Living
Affordability is another important factor in selecting best city to live in India. If you are staying in a rented property, your house rent is probably the biggest head in your monthly expenses. If you have stayed in Mumbai for some time, you would know that house rent can make a big dent on your pocket. Cost of groceries, dining out, transportation cost and many other costs in Tier-1 cities are generally quite high as compared to Tier-2,3 cities. If you can get a similar paying job in a Tier-1 city as well as a Tier-2 city, you may want to choose Tier-2 city as you can easily halve your expenses.
3. Real Estate Value
Everyone one wants to own a home one day and buying a home is the single biggest investment for most people. Before settling in a city, you must also analyze Real Estate prices in the city. Property prices in cities like Mumbai and Delhi are much higher than other cities. Perhaps you would first want to answer questions like – How much house can I afford?, Whether to rent or buy a house?, Can I afford a house in a particular city? Is the current Real Estate market relatively high or relatively low? Then you can choose best city to live in India.
4. Safety
Safety is an important concern for any individual. If you have an option to choose a city, you would want to read about crime reports of a particular city. Amongst Metro cities for instance, Delhi-NCR particularly has received bad name in recent years, as far as safety is concerned. Hyderabad was in a bad shape for few years when demands for separate state were being raised. Of course, things can change in future, a city that is considered unsafe today may become safer and another peaceful city can be attacked in future.
But safety of our family is our prime concern. Only, then can we think of anything else. So, you should look at long term crime rate trends and whether you can ensure safety of your family before closing in on your best city in India.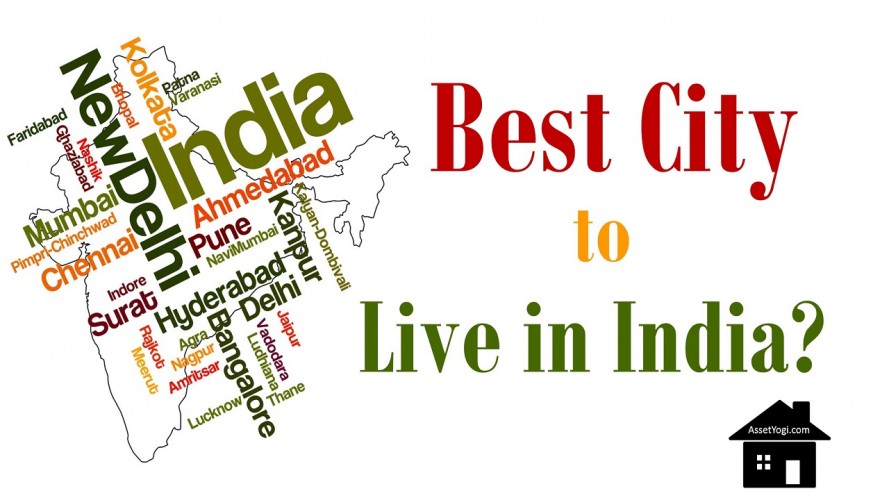 5. Education System
Importance of good education cannot be overstated. A good education is necessary in preparing children to better handle their lives and earn a living. Cities like Delhi, Mumbai, Chennai, Bangalore, Hyderabad, Kolkata are not just metropolitan cities but also boast of best schools and colleges of world standard. Even Tier-2 cities are also not behind in education. However, most rural areas lack good education system. Choose a city keeping in mind the education system that it provides.
6. Commute Time
The explosive growth of cities in India have created more and more suburbs and increased travel time. Distances and travel time in cities like Delhi, Mumbai and Bangalore can suck the energy out of you. A recent report indicates that long-distance commuters actually have an increased risk of divorce. High commuting time will drastically reduce the amount of time that you can spend with your family. If you cannot avoid traveling long distances, look for the most efficient way of traveling which can reduce your travel time and cost. Some of the ways can be using Metro, Car Pooling etc. A good transportation system is a major plus when choosing the best city to live in India.
7. Proximity to Family & Friends
Many of us are born and brought up in one town or city but our career takes us places. But as it is often said, we can't forget our roots. Some people like to spend time with their extended family and old friends. How do we do that if we are not working in our hometown? If we can't stay at our native place, at least we can choose a city from where we can travel easily to visit our parents, family and friends. For instance, people from North India choose Delhi-NCR for work, people from South India have choices in Bangalore, Chennai and Hyderabad and people from west choose Mumbai or Pune as their location preference. Choosing a work place near your home town can save you loads of time, money and energy.
8. Healthcare Facilities
Healthcare Facilities are one of the primary requirements of every individual. They become even more important if you have children or if you are nearing retirement age. Good healthcare facilities increase the quality of life of a city. You should look out for good hospitals and medical facilities while choosing your best city to live in India.
9. Infrastructure Facilities
A city's progress can be judged by the infrastructure facilities it provides that include transportation infrastructure (Roads, Metro, Railways, Airports etc.), water & sewage system, social infrastructure (educational, healthcare and other institutions) and commercial markets. Does the area have a water problem? Is there a good public transportation system in the city or do you have to depend on your own vehicle always? Are there good schools and hospitals in the area? Answering these questions will help you decide on the location where you would like to settle.
10. Climate
Do you like Bangalore and Hyderabad because of their pleasant weather all through the year? Or, do you like variations in weather like extreme summers and winters of Delhi? Not a fan of humidity? You may want to avoid settling in Chennai any time soon. Some people may prefer to stay on hilltops while others may want to stay closer to beaches.
The climate plays a large role in our lives as it impacts our hobbies, behavior, and sometimes even our jobs. Living in the climate in which you are most comfortable contributes to your mental health, so choose wisely!
11. City Size
If you enjoy the friendly atmosphere of a small town where almost everyone knows you in your locality then a smaller town is definitely for you. While if you like to remain relatively anonymous but want to enjoy best of facilities at the same time, then a metropolitan city is better suited to your personality.
12. Culture
Do you like the professionalism of Mumbai more or multiple cultures of Delhi more? Perhaps, you like relaxing at your laid back hometown more than anything else? Many people like to enjoy festivals, music, theater or sports while others like to volunteer for a social cause in their free time.
Make sure, you can pursue your favorite hobby or recreational activity in the city that you choose. If you enjoy being part of a particular group or community based on your beliefs or interests, you should choose your home location near such a group or community.
13. Food & Entertainment
Do you like eating out often and going to movies, music events or sports events? Then you should choose a metropolitan city to live. If you plan out a small vacation whenever you get an opportunity, you should choose a city from where you can easily plan some nice weekend getaways. The city should be well connected to various tourist places.
If, however, you enjoy peace, you should rather choose a place closer to nature away from the hustle bustle of a big city.
These were some of the important factors to keep in mind while choosing best city in India to live. Did we miss anything important?
Over to You
We need your love! Like, Share and Rate this article on "Best City in India – How to select Best City to Live in India?", if you found it interesting.
Have something to say or ask? Please comment below.
Become a Smart Real Estate Investor!
Get latest Real Estate insights, tips & tricks straight to your inbox.