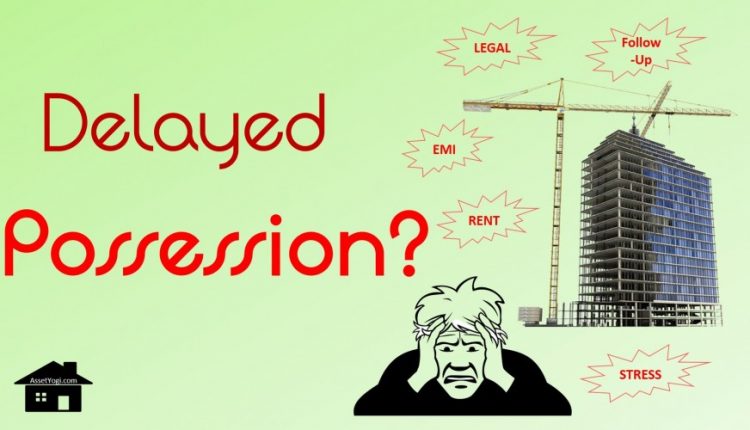 Flat Possession – Tips to handle DELAY in possession of flat
Sachin Bansal, a Banker based out of Delhi, had booked a flat in Gurgaon in a promising project that was to be delivered in 3 years. Two years have passed and the construction has not even started. Now he is worried that if the same situation continues, the project will not be delivered even in 5 years. In his case, he has paid 30% of the total amount to builder. He is already paying a rent of Rs. 25,000 per month. Now, he is thinking whether to cancel the flat and book in another project or keep waiting.
In another case, Shefali (Sachin's sister and a software engineer) had booked an apartment in an adjacent project to Sachin's about 4 years back. The construction is stopped and she is also stuck like many other buyers of the project. Shefali has already paid 85% of the total amount. All she can see is concrete structure at the site. Builder is promising to deliver the project in one year which by all means looks unrealistic. Shefali along with her husband, is paying a rent of Rs. 22,000 and also an EMI of Rs. 35,000 on the home loan they have taken. They are already feeling financial crunch.
Cases of Sachin and Shefali are one among many cases of buyers who are suffering because of delay in possession of flats. The delayed possession not only affects the finances of buyers but also creates a lot of stress. Should we be at the mercy of the builder or we can do something about it. Let us analyze the problem and see how we can tackle it step-by-step.
Flat Possession Delay – The Problem
Promises by Builder
In a typical group housing project, a developer generally promises to deliver flats in 3 years and includes a grace period of six months in the builder-buyer agreement. So, you can assume the project delivery time to be three and a half years. However, as a general trend projects are not delivered before 5 years. But is project delivery time beyond the control of the developer. Not really. Typically a multi-storey apartment project can be completed within 2-2.5 years. But then why project delays are taken for granted? Let us see what are the possible reasons of delay.
Possible Reasons of Delay
1. Approvals not received
If the builder has not started the construction, perhaps he has not received construction approvals from municipal authorities. Suppose the builder had received all construction approvals and even completed the construction, perhaps he is not getting completion certificate (CC) and occupancy certificate (OC) from municipal bodies. Without getting CC and OC, he cannot hand over possession.
2. Dispute or litigation on property
The property may be under some dispute or litigation due to which the construction cannot start or has halted. Perhaps, the project is not complying with some government regulations.
3. Developer delaying deliberately
Most often than not, developers delay the project deliberately. First, they want to maximize their working capital. Collections from one project are not kept in the same account. For lack of regulations, developers divert money from projects to buy land for future projects. When property market goes down, their cash flow and hence all projects suffer.
Second, if rates in the project have increased, the builder may delay possession in the hope that many buyers will panic and cancel the booking. He can always sell at a higher rate making windfall gains.
4. Financial Crisis
As said earlier, developers, in order to maximize their returns, use project collections to buy land and acquire other properties. But if there is a slump in the economy, the whole cycle overturns. As we saw during recession of 2008-09, construction activity came to a grinding halt as all companies struggled to sell more units and raise finance from banks.
5. Labor or Material Shortage
Another reason for delay can be shortage of labor in particular season or shortage of construction material. Although not in the control of the builder, such shortages are generally temporary and for a short time. But the reason is generally used as an excuse by builders to disguise their ulterior motives.
6. Force Majeure
A possible reason in the delay can be force majeure for eg. political instability, riots, terrorist attack, natural disaster like floods & earthquake etc. Such events are not in the control of the builder or the buyer. But, probability of such an event is very less.
Now, let us look at what kind of losses buyers have to bear because of delay in flat possession.
Types of Losses
A home buyer generally faces two types of losses in case of a delay in flat possession:
Direct Loss – Direct financial loss which can be easily quantified. A home buyer would be paying rent and home loan EMI. If he does not get the possession of flat on time, he would have to bear extra interest and pay the extra rent at the same time.
Indirect Loss – A loss which cannot be easily quantified and is related to trauma that you suffer because of the delay in possession of flat. Such a loss can be claimed by someone who has suffered and can prove it. For eg., a person who was about to retire and his dream home was till a distant dream, suffered a heart attack. He could claim indirect losses on account of the trauma he had to suffer.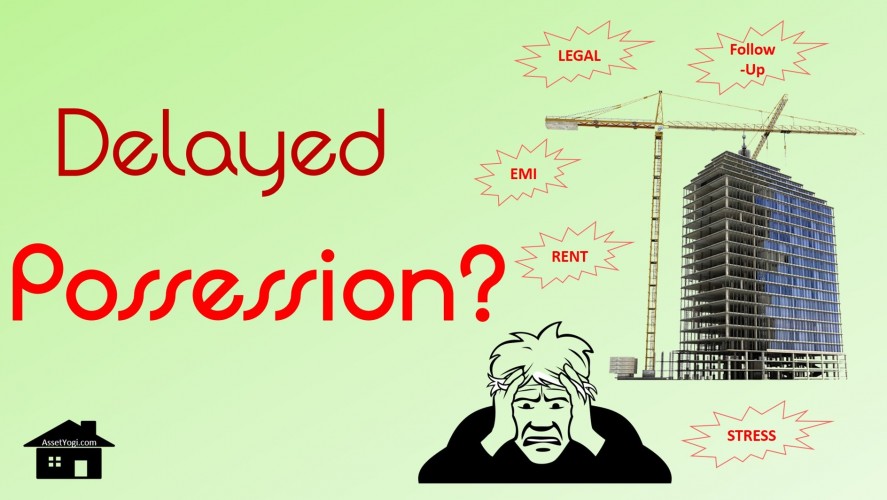 Solution to "Delay in Possession of Flat"
Preventive Measures
1. Due Diligence
This is the first step that you should take even before you book the flat. You must conduct your own due diligence on the builder and the project. You should look at the track record of the builder and look at the average delivery time of his past projects. Then you should check whether the concerned project has received all approvals. See – documents to check before buying a flat.
When opting for a payment plan, always choose construction linked plan. In this way, you are creating an incentive for the builder to complete the project at the earliest. This will also ensure that you don't block all your money upfront. You should always keep your options open.
2. Penalty Clause
Before handing over the booking amount cheque, you should ask for a copy of allotment letter and builder-buyer agreement. Check out the project delivery time and ensure that penalty clause is incorporated in the agreement. Generally, all reputed builders have a penalty clause in builder-buyer agreement stating Rs. 5-10 per square feet of penalty per month that the builder will pay from the promised project delivery date upto the actual handover date of the flat.
3. Form a Group
Once, you invest in a project, the next thing you would like to do is to get in touch with other buyers and investors of your project. A group has a much higher strength than an individual. In case of any delays,. These days, there are many online forums where you can meet your fellow buyers and investors.
4. Follow Up with Builder
Your job doesn't get over with regular payments of your home installments. You should keep a track on construction activity. In case, you feel that the construction is getting delayed, you should meet with the builder as a group and understand the situation. A group can build more pressure and it is easier to fight for your cause as a group.
Legal Recourse
In case you feel that the builder is deliberately delaying the project, you may have to resort to take legal action. You can approach following forums for redressal:
1. Civil Court
If a builder commits breach of its obligations or is involved in unfair trade practices, you can approach a Civil Court for relief. For eg. some builders sell plots and flats even without owning the land, some use sub-standard construction material, some builders don't apply for approvals deliberately causing delay in projects. Certain states have special provisions to handle delays by builders. For instance, under Section 8 of Maharahstra Ownership Flat Act 1963, the builder is liable to refund the buyer's money with interest if he is unable to justify delay in handing over possession of flats.
2. Consumer Forum
Consumer Protection Act, 1986, protects the rights of a consumer and provides remedies to a consumer against deficient services. A delay in handing over possession of flat is deficiency in rendering of promised service by the builder. You can file a case in the consumer dispute redressal commission at three levels – district, state and national level. District commission, established in each district, can handle cases where the value of the claim is less than Rs. 20 lakhs. The State commission of every state can handle cases where the value of claim is more than Rs. 20 lakhs but less than Rs. 1 Crore. The National commission has jurisdiction to handle claims of more than Rs. 1 Crore.
3. Competition Commission of India
The Competition Act, 2002 was enacted to prevent practices having adverse effect on competition, to prohibit use of dominance and to protect interests of consumers. A flat buyer can file a complaint against the unfair practices of the builder before the Competition Commission of India which has been empowered to investigate anti competitive practices and impose stringent penalties on the offenders. Penalties imposed by CCI against a builder act as deterrent to unfair trade practices in the real estate industry.
5. Criminal Court
Along with the consumer complaint in consumer forum, you can also file a criminal case against the builder under the provisions of Indian Penal Code, 1860 for breach of contract, cheating, not responding to grievance and delivery of poor quality construction. You can send a statutory notice to the builder. If the builder does not respond to the notice, file a police complaint and then file a criminal complaint before the Metropolitan Magistrate. You should mention all irregularities committed by the builder in your complaints.
Relief Options
It is better to take legal action as a group. If you file a case as a group, your legal costs will be shared and your case can be fast tracked.
Refunds can be claimed if the project is delayed beyond the stipulated time period as per the agreement. If the builder is in trouble and not in a position to deliver the project, the flat buyer can claim for the money required to purchase an alternative flat at the current market rate in the respective area.
If, however you are reasonably sure that the builder will hand over the possession of flat in a few months or years, you can claim the money you will be spending to pay rent during the delay period. Otherwise, you can claim interest on the payment made till date.
Conclusion
Today, builders are leaving no stones unturned in attracting the investors and end users into buying their properties. First, they will promise you moon and once they get all the money, they will stop responding to your queries. Most projects get delayed due to unfair practices by builders. There cannot be any justification against the delay caused by the builder once he has taken money and has promised to deliver the project in stipulated time.
As a consumer, we must know our rights and how to seek justice. First, you should take preventive measures to avoid delays in possession of flat. If however, preventive measures are not working out, you should not hesitate in taking legal action against the builder. After all, it is our hard earned money which is at stake.
Over to You
We need your love! Like, Share and Rate this article on "Flat Possession – Tips to handle  DELAY in possession of flat",  if you found it useful.
Have something to say or ask? Please comment below.