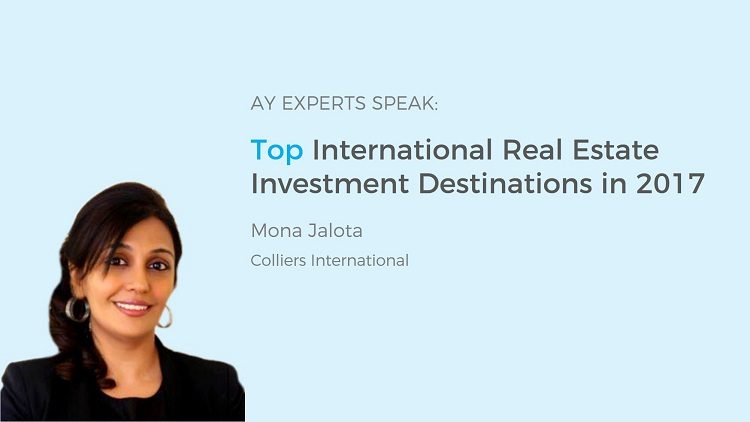 Top International Real Estate Investment Destinations in 2017
NRIs and HNIs are taking a cautious approach before investing in Indian Real Estate market. They are waiting for RERA implementation and other regulations to set in before taking any investment decision.
Meanwhile, there are other healthy property investment options available across various countries. In this interview with Team AY, Mona Jalota (Director – International & NRI, Residential Services) shares her views on current Real Estate investment scenario in India and the world. She also discusses about top international investment destinations in current scenario.
Go through this interesting chat to understand where you should park your money in 2017.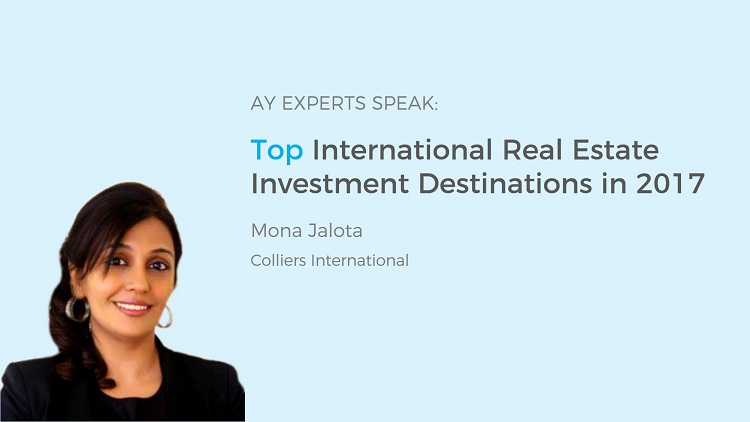 Team AY: What kind of trends do you see lately by NRI customers looking to invest in India?
Mona Jalota: NRIs are now having a cautious wait and watch attitude for investing in Indian properties. They are waiting for the full effect of RERA to come in, before taking any major investment decisions. Some of the factors which have affected the NRI market negatively are the disallowable Power Of Attorney method for NRIs to purchase or sell property in India, the weakening dollar and pound, the changing tax policies bringing more accountability for the NRIs.
Team AY: Has there been any effect of De-monetization on the NRI market, positive or negative?
Mona Jalota: The sentiments of NRIs post demonetization have been fairly positive. They are looking forward to the market becoming regulated and well defined with the stakeholders becoming more accountable.
Team AY: In today's scenario, what is the best investment option for an Indian HNI – invest in an international market or invest in Indian market where prices have been subdued for quite some time?
Mona Jalota: This depends on the current property portfolio of the HNI and his appetite for having a diversity in the same. If the HNI has his primary home in India as per his aspirations, then notwithstanding the holiday home concept, he must consider overseas markets for investments and a luxury lifestyle. International real estate offers some great options in mature, stable markets, having excellent entry points and rental returns. These properties offer a great lifestyle cum investment choice, come fully managed and more often than not have a capital appreciation benefit as well. Given the relaxed LRS limits, one can plan such investments and enjoy returns.
Team AY: What are the best International Investment Destinations for HNIs in today's market?
Mona Jalota: After taking into consideration the historic buying behavior and also the ever-changing political and financial scenarios across the globe, here is a continent-wise breakdown for residential real estate investment from the Indian HNIs perspective:
ASIA
1) Pattaya – With a strong rental demand owing to the high influx of tourists, Pattaya continues to attract foreign investors with its low entry prices and high rental returns. Condominiums are the most popular to invest in, and they usually come fully fitted with rental guarantees. With prices starting from as low as INR 35 lacs and rental returns as high as up to 10%, Indian investors are looking at Pattaya as the hotspot for investment.
2) Tokyo – Traditionally, Japan has been the second largest destination of Indian exports (major exports include gems, marine products, iron ore, and cotton yarn). Consequently, Japan attracts significant property investment in the capital, Tokyo. Minato, one of the prime residential area is a centre of business activities where many headquarters are located. Many foreign corporations and embassies are found in this area. In addition, there are many foreign residents which makes this area probably the most favorable destination in Japan.  The house prices begin from $1800 per sq ft and the average rental yield ranges from 6% to 8 %. There are also relatively low taxes on rental income.
AUSTRALIA
Sydney and Melbourne – Sydney and Melbourne property markets are still forging ahead and providing solid options for investors, particularly those who are getting into the property market for the first time, or who aren't ready to take the riskier bet. Sydney's vacancy rate has been stable at around 1.7% since 2012 and has continually registered strong growth prospects, particularly in inner city areas – though the downside is that prices are still sky high.
A boom in new construction saw Melbourne's vacancy rate rise to 2.8% around mid-2012, but that has been calmed down now as population growth counters oversupply to bring vacancy back to 1.9%. So if one wants to make an investment with strong growth prospects that is unlikely to suffer from lack of tenants, it can still be worth investing into markets such as Sydney and Melbourne.
EUROPE
1) Manchester – Termed as one of the UK's fastest growing cities and best places to live, Manchester provides a huge opportunity for Indian investors. With a predicted growth rate of 10% YOY and average rental yields of 7-8%, coupled with entry prices as low as £ 250K, Manchester is the 'TOP PICK' for 2017.
2) London – London continues to be the most popular investment destination with Indians. Whether it is the cultural connect or the safety of the investment and the hitherto strong real estate market, offering stable and consistent growth, this is the first city as a choice for global investments.  Currently, the Brexit vote has had a strong economic impact, not as far as property prices are concerned but more owing to the possibility of more bargains to be had in uncertain scenarios. Indian investors are currently looking to cash in on the weakness of sterling.
3) Germany – One of Europe's strongest economic performer which has registered an increase of an average of 23% in residential property prices. Post Brexit, many investors perceive Germany to be the next financial capital of Europe, and the stable economy adds in to the appeal as an investment hotspot.
USA
The country has led the global recovery from the financial crisis of 2008 in a stellar manner and this is evident in the renewed confidence in the property market. There is a continued appetite for the USA property amongst Indian investors, although the trend shapes away from high-priced, top-end property to more modest real estate.
1) New York – The city is most popular in terms of lifestyle, opportunities and growth. One doesn't have to be a real estate mogul to own property in New York. One can be a landlord for as less as $500K. Currently areas such as east of Lexington Avenue on Manhattan's Upper East Side are extremely popular with investors owing to the construction of the Second Avenue Subway. With some of the city's most desirable boutiques, restaurants, and schools within walking distance, homes that were originally considered to be located too fareast by locals will almost certainly appreciate once the project is complete.
2) San Francisco – The most popular city with the millennials, enjoys an extremely high interest from investors owing to lack of space, thus leading to high capital appreciation. Due to high property prices, the rental returns are not very attractive. However, owing to the huge demand of homes and the lack of adequate supply, investors are constantly paying high prices to get a piece of the action. Additionally, investors are thinking of innovative ways to maximize rental returns by using short- term rental platforms such as Air BNB which drive up lease returns.
Other than the above mentioned property hotspots, Indian investors also consider property investments which are linked to PR and immigration benefits.
Team AY: Has there been any change in the interest of NRI investors post Donald Trump coming to power?
Mona Jalota: Not really.
Team AY: Has there been any impact on project deliveries, now that RERA is going to be implemented across states?
Mona Jalota: Not yet, but project deliveries will be more timely, once RERA is fully implemented
Team AY: Although, Real Estate investments are largely driven by an investor's preference for a particular city, may be due to presence of family or relatives, do you think with implementation of RERA and initiatives like development of Smart Cities, investors may start thinking about investing in the best possible location without having any particular emotional bias towards a city?
Mona Jalota: Absolutely, if the infrastructure supports the location and the investment has a good potential of returns, investors will definitely diversify to other cities, other than their home towns.
Team AY: What advice would you have for Assetyogi, an online Real Estate Blog Magazine?
Mona Jalota: Would advise Assetyogi to continue the good work and keep blogging about genuine industry related content and explore new trends in real estate.