Yamuna Expressway Master Plan 2031, 2021 – Map & Summary!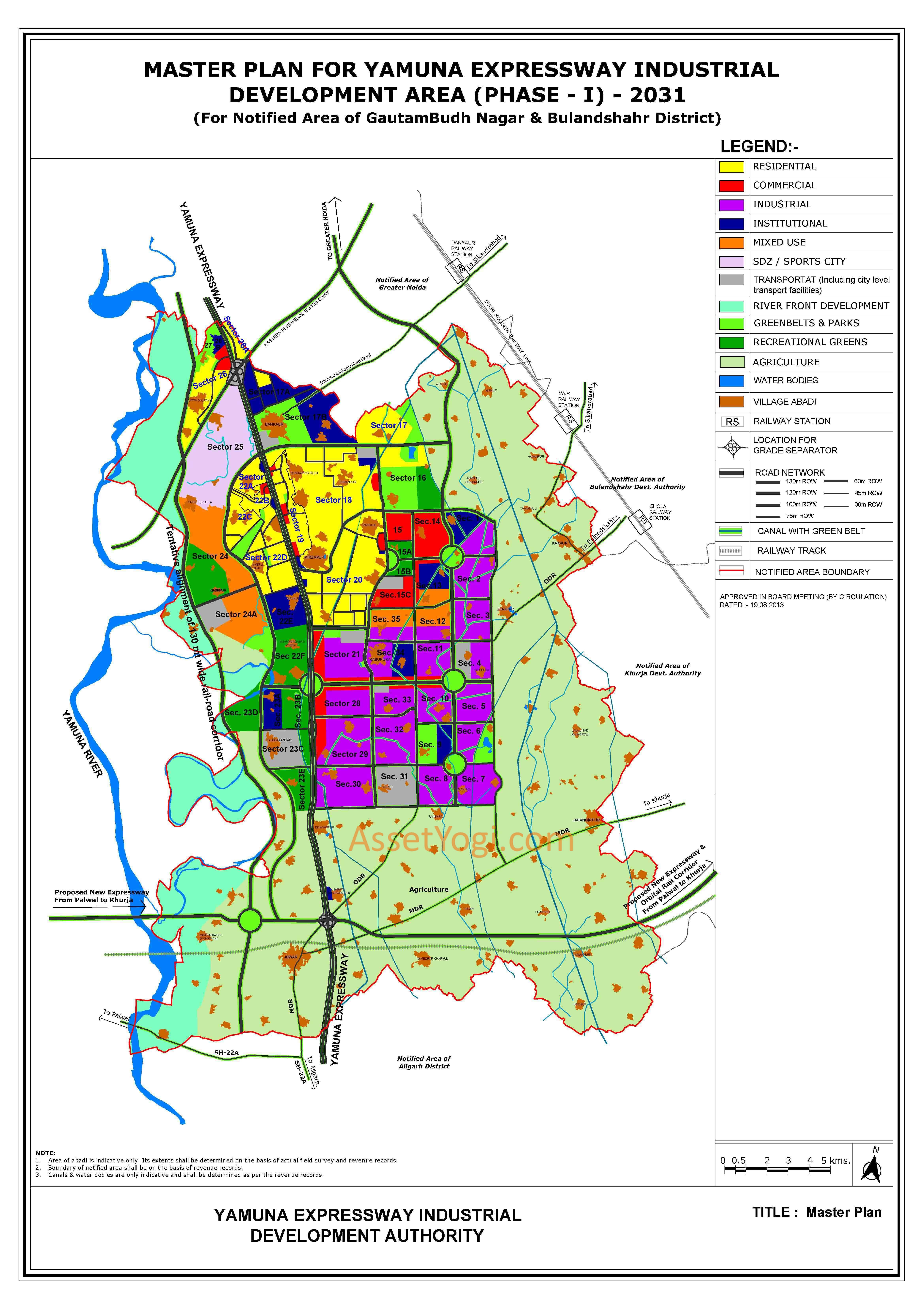 Yamuna Expressway Master Plan 2031 has been prepared to provide vision & regulations for development and building activity in the Yamuna Expressway corridor of Uttar Pradesh. It estimates a population of 35 lakhs by 2021 for Yamuna Expressway region. Accordingly 24,700 hectares of land is allocated under the proposed land use by 2031 in yamuna expressway master plan.
You can download the yamuna expressway master plan land use maps for 2031 and 2021 from here. Check out the summary of Yamuna Expressway master plan 2031 below. To share your opinions and suggestions, please use the comments section at the end.
Downloads
Summary – Yamuna Expressway Master Plan 2031
Introduction
Yamuna Expressway is a 6-lane (extendable to 8 lanes), 165 km long, controlled-access expressway, connecting international tourist destinations of Delhi and Agra, UP. It is India's longest six-lane controlled-access expressway stretch. The total project cost was INR128.39 billion (US$2.1 billion). Yamuna Expressway is planned to have 5 LFDs (Land of concessionaire) with facilities of 4 Toll Plazas, and 6 Interchanges along the entire length.
For implementing the Yamuna Expressway Project and allied development in the region, the Government of Uttar Pradesh had constituted the Taj Expressway Industrial Development Authority (TEA) vide its Notification dated 24th April, 2001, under Uttar Pradesh Industrial Area Development Act, 1976 (U.P. Act No.6 of 1976).
YEIDA
The main responsibilities of the erstwhile TEA (now Yamuna Expressway Industrial Development Authority), inter alia, included:
Execution of Yamuna Expressway
Acquisition of land for construction of Expressway and area development
Preparation of Zonal plan/Master plan for planned development along the Expressway
Development of drainage, feeder roads, electrification and other facilities in the area
Approx. 334 villages of District Gautam Budh Nagar, Bulandshahar , Aligarh, Mahamaya Nagar (Hatras), Mathura and Agra are Notified under Yamuna Expressway Industrial Development Authority vide various Notifications of Government of Uttar Pradesh.
YEIDA notified area covers approx. 2,689 sq. kms. falling in six districts to be developed in two phases.
District
Area (sq.km.)
GB' Nagar + Bulandshahr
584
Phase-1
Aligarh
2105
Phase-2
Mathura
Mahamayanagar
Agra
Land Use
In, Yamuna Expressway Master Plan – 2031, a total of 247 sq.km (24700 ha) of area is demarcated to be developed by the year 2031 and it is designed for a population of 35 lakhs by 2031.
Proposed Land Use
S.No.
Land Use Category
Year 2031
 
 
Area (ha)
%
1
Residential
4569.52
19.5
2
Commercial
1275.12
5.4
3
Industrial
4698.15
20
4
Institutional
1759.03
7.5
5
Gressn
5148.19
21.9
6
Transport
3512.13
15
7
Mixed Use
1370.23
5.8
8
SDZ
1142.87
4.9
Sub-Total
23475
100
Village Abadi Areas
1263.79
Total Urbanisable Areas
24739
Transportation
Regional Connectivity
YEIDA is strategically surrounded by major cities NOIDA, Greater NOIDA, Faridabad, Khurja, Dadri, Aligarh, Mathura, Agra etc.
Railway linkages:
Delhi- Kolkata Line via Aligarh
Mathura -Bareilly Line via Hathras
Agra-Tundla Link
Airports
Delhi International Airport – 50km from Yamuna Expressway.
Agra Domestic Airport – 180 km from Yamuna Expressway.
Proposed Connectivity 
Yamuna Expressway is strategically located in NCR. Major transportation projects like Dedicated Freight Corridor, Rapid Rail, Metro Rail, Road & Railway projects are planned in the region. Proposed connectivity in Yamuna Expressway Master Plan 2031 is shown below.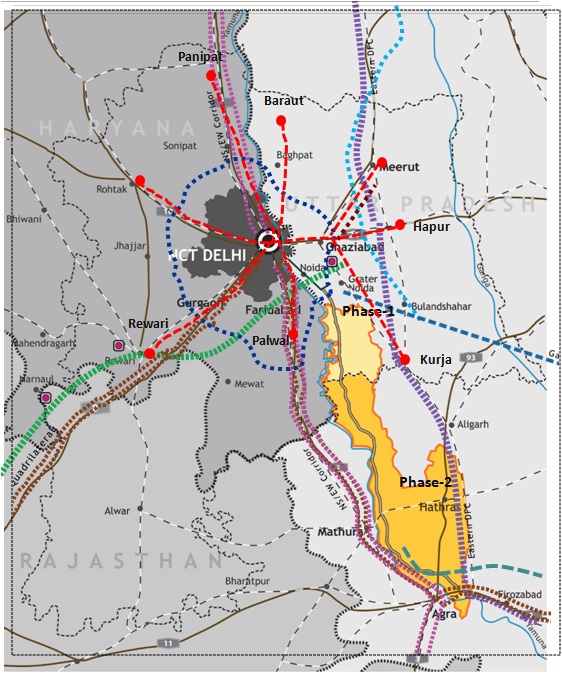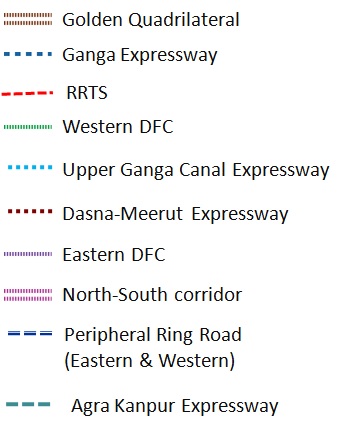 Industries
Existing Industries
Noida & G Noida – IT, BPOs, ITeS, EPZ (electronics, textiles, engineering & software), Manufacturing Hub for Auto, hardware etc.
Small, Medium & Large Scale Industries in Ghaziabad, Faridabad, Mathura, Aligarh, Agra, Hathras.
Large Scale Industries – IOC Refinery (Mathura), Sugar Mill (Chatta), Locks Manufacturing ( Aligarh)
Other MSME Industries – Agro Based Food Processing, Ready Made Garments, Wooden Furniture, Paper & Paper products, Leather Based, Chemical & Chemical based, Rubber, Plastic & Petro based, Metal Based (Steel Fab.), Engineering Units
Proposed Industries
Non-Manufacturing – IT & ITES
Potential Large Scale Industries
Petrochemical Industries
Pharmaceuticals
Sugar Industries
Beverages Industries
Fertilizer Industries
Plastic Park
Potential MSME Industries
Mechanical & Engineering Industries
Chemical & Allied Industries (Paint, Rubber, Adhesives, lubricants etc.)
Electrical Based Industries
Agro based & Food Industries
Service Industries
Dairy Products & others…
Strategies to target industries
Integration of new industries integrated with global demand
Target commercial & distribution hub consumer market
Expansion of high technology industrial clusters from Noida- Greater Noida
Target ancillary industries to support major industries in NCR
Target food processing industries to utilize agricultural produce from western UP and Haryana
Expansion of traditional industries from secondary centers
Target Logistics based industries to make most use of Dedicated Freight Corridor and other transport linkages.
Source: Yamuna Expressway Authority